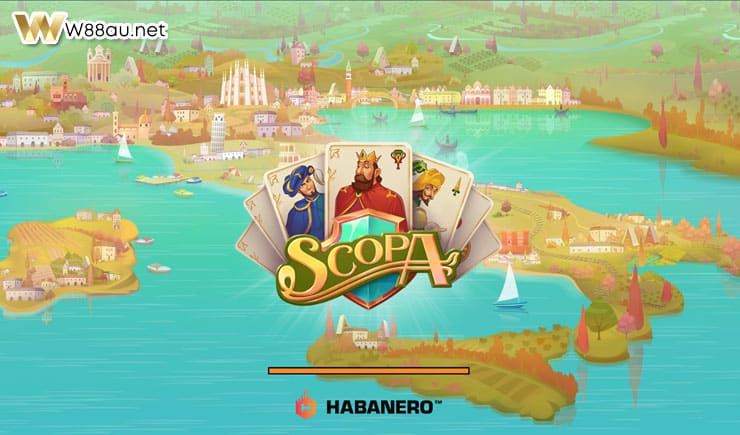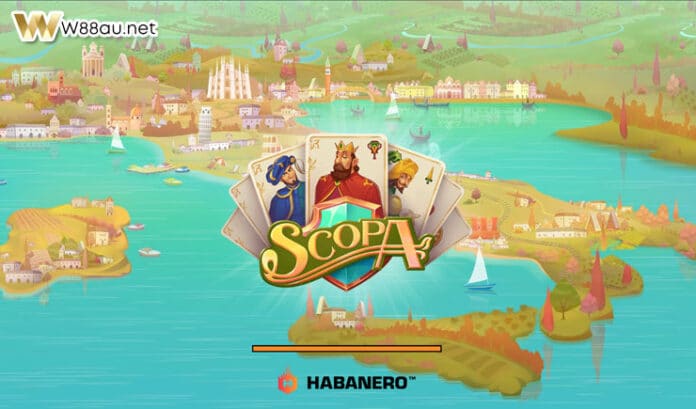 Scopa Slot is currently in the top of the popular slot games available on W88 online bookie. Players can experience this exciting game and win big for quick profits. The Scopa Slot review below will provide players with more information on bonus and payout features.
Overview of Scopa Slot on W88 online bookie
Scopa online slot on W88 is a very interesting and special game from the game publisher Habanero. Based on the Italian card game of the same name, this slot is also themed with an Italian cartoon setting and features symbols inspired by the Renaissance.
Scopa Slot W88 game symbols are designed to be in a 1-3-3-3-1 pattern and players need to land matching symbols on adjacent reels on the reels to win. Scopa Slot offers players a wide range of free spins that are unlocked. Each free spin is named after an Italian city, and each comes with specials, such as expanding wilds and multipliers.
This highly volatile slot can help players win jackpots up to 5,000 times their total initial bet. The game's RTP is said to fluctuate around 93.96% to 96,67%, not too high but the jackpot winnings will be huge.
The entire interface design of Scopa Slot is animated without a lot of complicated 3D animations and effects. But this is actually a good thing, making the slot game run smoothly on most devices.
The sound is absolutely amazing. First, you get the sound of a train on the tracks, on top of which you get the beautiful and peaceful Italian tune, along with some beautiful jingle for the wings.
Scopa Slot guide to play on W88 and its symbols
Bet values vary from a minimum of 0.15 and a maximum of 3,000 credits per spin, making Scopa a slot machine to suit any player's budget.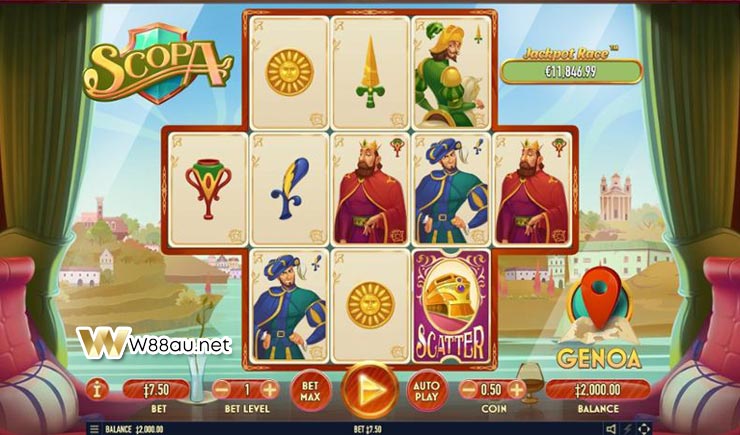 Beginners can join with low stakes to experience the thrill of playing a new slot game, while advanced, experienced and risk-takers will prefer to place high stakes to win and make profit.
The bet level can be changed by pressing the button from the bottom of the screen with the + and – buttons. The spins start when you press the Play button in the center of the screen.
The reels are filled with themed symbols such as daggers, vases, sun symbols, and three distinctly shaped playing cards inspired by a traditional game that was popular in medieval Italy.
Special features of Scopa Slot
Wild – Wild Cards can substitute for all other symbols in the symbols table, but cannot substitute two Scatters to complete or create winning combinations.
Free Spins – need to land 3, 4 or 5 Purple Train Scatter symbols anywhere on the spins in order to win the free spins. You will get 13 Free Spins with x1 multiplier applied to all winning spins. Landing three or more Sun Scatter symbols instead of the Purple Train will land the player 13 free spins with a multiplier of x5.
Extras – available for each different region in both the base game and during Free Spins. Additional features offered by Scopa Slot are as follows: Genoa – x1 or x3 random multiplier for Wilds; Naples – Wild turns a random symbol into a wild but only on reels 1 and 5; Venice – 1 or 2 Wild symbols guaranteed; Tuscany – randomly transforms a low paying symbol into a Wild.
Progressive Jackpot – Progressive Jackpot can be won randomly at the end of each spin, helping players make a huge profit.
Conclusion
Scopa Slot from Habanero Slot, although newly born in 2020, the attraction of the game has quickly spread in many online casinos, and is now also very popular on W88 online bookie. Join today to win the jackpot and get valuable rewards when you spin the slot.
>> Related articles: Techno Tumble Slot Review: How to play and Bonus features