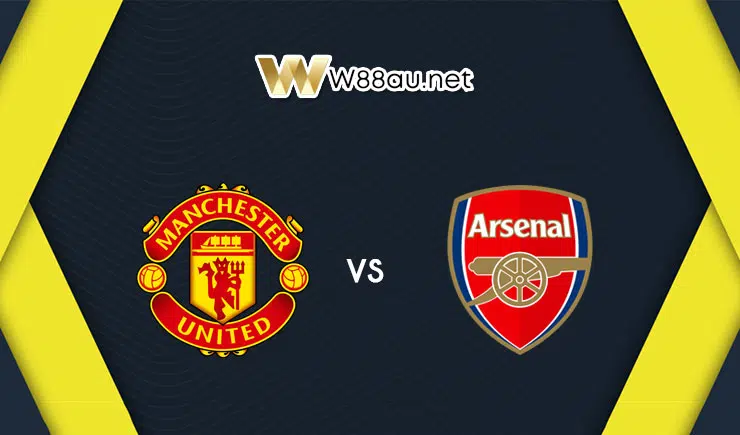 Unlike Manchester United's performance in the Premier League, Arsenal are having a great series of days with a series of victories and joining the top of the league. Let's analyze the bets at the W88 bookie in the match between Manchester United vs Arsenal at 03:15 on December 3, 2021.
Manchester United vs Arsenal match information on December 3, 2021
Round 14 of the English Premier League season 2021/22.
Time: 03:15 on December 3, 2021 in Asia time.
Venue: Old Trafford Stadium.
Manchester United has 18 points and is the team ranked 8th in the group.
Arsenal have 23 points and are ranked 5th in the group.
Prediction for the match Manchester United vs Arsenal on 03/12/2021
Review of the Manchester United team
Man United has yet to make any significant improvement since replacing new coach Michael Carrick. Despite holding Chelsea in the previous round, the reality showed that the Red Devils played completely weaker than the opponent.
Falling to 8th place in the group, Man United will need to play carefully and save more points if they want to participate in the Top 4 tournaments.
Returning to Old Trafford to welcome the Gunners in the next round will be a difficult challenge for MU. Despite being rated higher with a handicap of 0.5 goals, the fact that a squad with many injured players in the squad is putting a lot of pressure on MU.
Most likely the home team will play carefully and not have too many goals scored.
Review of Arsenal team
Arsenal are greatly expected by fans when continuously improving their ranking in the Premier League this year. Most of the Gunners squad are young players full of enthusiasm and dedication. This is the advantage that coach Mikel Arteta has to create a team with impressive play.
After the defeat to Liverpool, Arsenal quickly recovered their form with a victory over Newcastle United and are still aiming for a place in the Top 4 of the tournament.
Coming to play as the away team to Manchester United this time, Arsenal will play with a fairly balanced position with the opponent and cause many difficulties for the home team.
Recent performance of Manchester United vs Arsenal
Manchester United performance
28/11/2021, Chelsea 1-1 Manchester United
24/11/2021, Villarreal 0-2 Manchester United
20/11/2021, Watford 4-1 Manchester United
06/11/2021, Manchester United 0-2 Manchester City
03/11/2021, Atalanta 2-2 Manchester United
Manchester United has a record of 1 win, 2 draws and 2 losses in the last 5 appearances in all competitions. The number of goals the team scored was 6, and the opponent scored 9 goals.
Arsenal performance
27/11/2021, Arsenal 2-0 Newcastle
21/11/2021, Liverpool 4-0 Arsenal
07/11/2021, Arsenal 1-0 Watford
30/10/2021, Leicester City 0-2 Arsenal
27/10/2021, Arsenal 2-0 Leeds United
Arsenal have 4 wins and 1 loss in the last 5 matches in many different competitions. The number of goals Arsenal players have is 7, and the opponent has scored 4 goals.
History of the match between Manchester United vs Arsenal
31/01/2021, Arsenal 0-0 Manchester United
01/11/2020, Manchester United 0-1 Arsenal
02/01/2020, Arsenal 2-0 Manchester United
01/10/2019, Manchester United 1-1 Arsenal
10/03/2019, Arsenal 2-0 Manchester United
26/01/2019, Arsenal 1-3 Manchester United
Arsenal has the advantage of winning 3 and drawing 2 recent matches against Man United. However, the fact that MU has just appointed coach Ralf Rangnick will make them more determined in this match between the two teams.
According to the prediction, the match between Man United vs Arsenal in the 14th round of the Premier League here will be extremely interesting.
Arsenal vs Manchester United December 3, 2021: Odds Types
The handicap offered by the W88 bookie: Man United accept 0.5 goals.

Over and under the whole match is 2.75 goals.

Total goal prediction: 2 goals – Under bet.
With the home field advantage, MU is considered by the experts of the W88 site to be higher with a handicap of 0.5 goals. However, with the current performance, it is clear that Arsenal have a more impressive series of achievements than the home team.
This will be a match that is expected to take place with a fairly even position and it is unlikely that too many goals will be scored.
Prediction: Manchester United 1-1 Arsenal
Man of the Match Prediction: Emile Smith Rowe
Expected lineups Manchester United vs Arsenal
Manchester United squad: David de Gea, Eric Bailly, Alex Telles, Victor Lindelöf, Aaron Wan-Bissaka, Fred, Nemanja Matic, Scott McTominay, Marcus Rashford, Bruno Fernandes, Jadon Sancho.
Arsenal squad: Aaron Ramsdale, Benjamin White, Takehiro Tomiyasu, Gabriel Magalhães, Nuno Tavares, Bukayo Saka, Thomas Partey, Albert Sambi Lokonga, Martin Ødegaard, Emile Smith Rowe, Pierre-Emerick Aubameyang.
Above is the information before the match that is carefully calculated in our Manchester United vs Arsenal match on December 3, 2021. With the analysis and judgment by a team of experts, the chances of winning the house when betting on this match are very high.
Beware of parlay bets on this match against other matches in round 14 of the Premier League. Once you know the performance of the two teams, predicting football will become much easier.