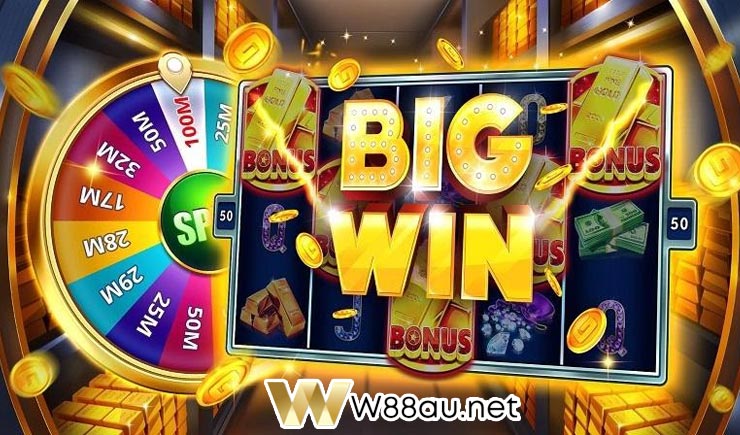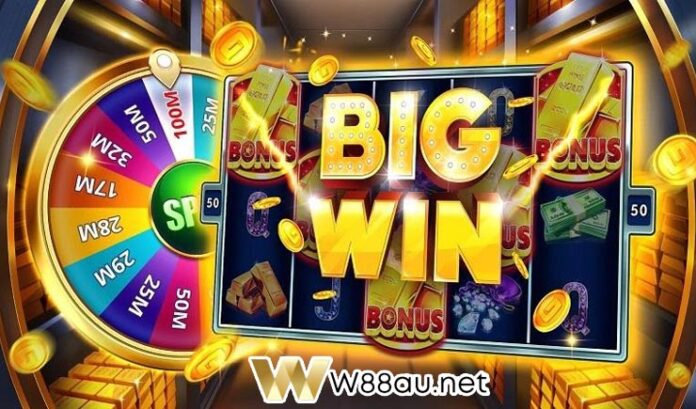 Slots online or Slot games are quite popular in Europe, but now many online games have updated this game, including W88. This guide from W88 experts will help you understand how to play slot games easily and win big money.
What are slot machines online on W88?
Slot machines (or Slot games or Jackpots) is the most popular game genre in all casinos in the world and is usually classified into a series of playing machines called Slot machines in casino.
Each slot machine usually consists of three to five horizontal rows and three to five vertical rows with various symbols depending on the theme of the sport. Online slot machines are also based on those standards to design virtual slot machines to serve online players.
How to play Slot games online on W88 Slot
All Slot games have the same rules of the game, very simple as follows: bet, spin and get a bonus if you hit the winning combinations.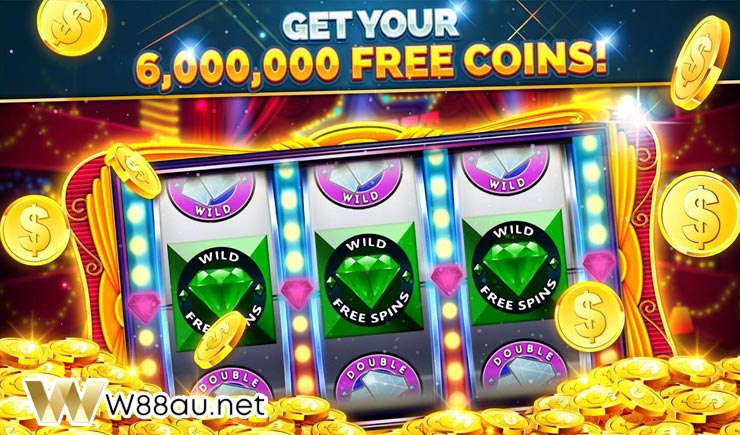 Specifically, the steps to play Slot games are as follows:
Betting: Slot games let you choose paylines, some just need you to choose the total bet and will be divided equally into all paylines, you don't need to choose.
Press the Spin button.
The reels will spin randomly.
You win if the reels land on the same symbols (usually 3 or more) on a payline of your choice.
Get a bonus (if you win), and start a new game.
Common buttons in Slot games
Spin: Start the game
Total Bet: The total bet you placed on that spin.
Auto Play: use the auto spin feature. You will choose the number of spins and the machine will spin continuously instead of you playing each game one by one.
Turbo mode: faster by reducing some visual effects.
Help/?: To understand the rule of the game
Re-spin: pay an extra fee to re-spin a reel at the end of any spin.
Bet Max: press this button if you want to bet the maximum number of rows/maximum amount allowed.
Bet One: press this button to place a bet on a payline. Choose this option, then press Spin.
Collect: press this button to collect your winnings and deposit them into your account.
You can try playing the famous Slot games like: Genie's Luck Slot on the theme of genie or Gem Forest Slot on the theme of gems in the forest available at the house to try these buttons.
Common Slot Game Terms
Payline/line: There are usually 1-100 rows in each Slot game. It can be horizontal, vertical, diagonal, V, zigzag depending on the rules of each game (should be read before playing). If the same symbols are drawn on the same row, you win.
Free Spin: Currently, W88 is giving away many free spins to play slot games for new customers.
Coin: The number of coins you want to bet per payline.
Coin size: set the conversion value of each coin to money. Ex: put each coin worth 0.1$.
Multiplier: If you win, your money will be multiplied by the bonus amount, such as 3x, 5x, 100x.
Bonus game: The bonus game is claimed by hitting a special combination on the rows, which gives additional bonuses like free spins, cash prizes…
Wild Symbols: The wild symbol, which replaces a regular symbol, allowing you to complete a winning combination.
Scatter Symbols: Some Slot games have a Scatter feature, which is a special bonus symbol. They don't need to be on a payline, you also get rewarded. It can be money or fun little rewards like free spins, bonus games. Scatter rules are different for each game, so you need to consult the rules before playing.
Jackpot: Every time someone loses, part of the bet is put into this bonus pot. So it will grow until someone hits it. If you're lucky enough to win the Jackpot, you'll get tons of cash.
Experience playing Slot Online on W88 Online
Max Bet at Slot Jackpot
If you play Slot games with Jackpot or Progressive Jackpot. You need Bet Max if you want to qualify for Jackpot and have a chance to win big.
Always bet low but place lots of rows
Slots are games of chance where the best way to increase your chances of winning is to trigger more paylines. So you should bet low but spread the bet on many rows to increase the probability of winning.
Conclusion
Above are all useful sharing on how to play slots online on W88 Slot Live Betting. If you want to experience the fun of Slot Games, then W88 sign up today to immerse yourself in the popular slot games.