Gem Forest Slot is a newly released slot game from Gameplay Interactive game provider. Gem Forest with a beautiful interface combination, sharp images and vibrant colors will definitely bring players many interesting things.
See more instructions on how to use buttons and commonly used terms in Gem Forest slot games at W88 below.
Introduce to Gem Forest Slot
Filled with outstanding features such as free spins, bonus rounds, cards that are assigned the value of any other card (wild card), high bonus multipliers, players can 27 ways to win Gem Forest.
This is a Vegas style slot game and has 3 reels. The game supports a maximum coin value of 3000 credits and allows a maximum bet of 3000 credits. You can expect regular payouts as the RTP of this game is 96.27%. It can be seen that this is a fairly high payout rate of the current betting product game.
How to play Gem Forest slot game at W88
Step 1: Place a bet
First click on the LINE BET button to select the bet you want to bet.
For new players, you should bet with the minimum bet (lowest bet), to avoid the risk of losing all your money. Click BET MAX if you want to choose the maximum bet.
Step 2: Spin to prize
Click the SPIN button to start the game.
Press the AUTO SPIN button to start the auto play mode.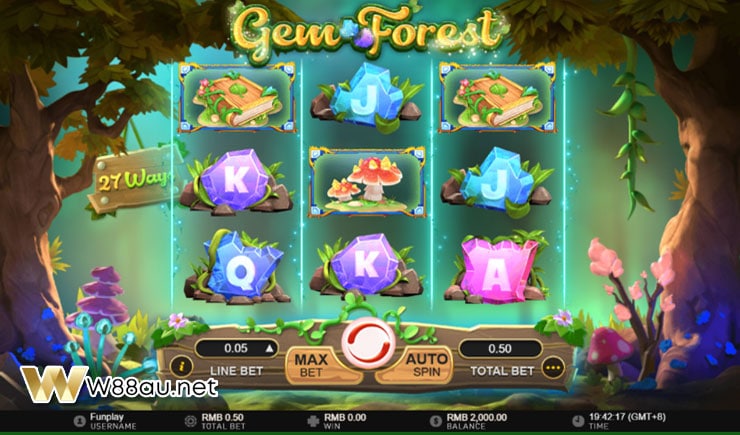 Calculation in Gem Forest slot game
Payline
Like other slot machines that don't use a standard payline, Gem Forest will let you win prizes in any possible direction, as long as your matching symbols are found on adjacent reels.
Gem Forest slot game with adventure into the jewel forest.
There are up to 27 ways for players to win the game.
All wins are counted from left to right anywhere on the adjacent reels.
The win is calculated by multiplying the bet multiplied by the symbol appearing on the payline.
The biggest win will be paid out.
Winning symbols are removed and new symbols fall to fill the gaps.
Paytable (symbol calculation)
The paytable has nine different symbols, eight of which are base symbols and one is a wild. All wins with symbols will pay out as shown in the table below.
The WILD symbol will have the highest payout up to 100x stake.
The WILD symbol looks like a cartoon fox and can substitute for all other paying symbols and appears on all reels.
The symbols are basically divided into two groups of four symbols each, one representing items and another representing gems with card marks painted on them.
With a wild symbol, you can bet 3 times your stake. But if you land two or three of the symbols, you can win bigger prizes of 5x and 100x your payline respectively.
Range to bet on Gem Forest slot
Gem Forest slot review has a wide range of bet limits from large to small, so it can attract both players with a large amount of money to play, as well as bettors with a small budget.
Therefore, with coins with the lowest value of 0.05 credits, you can bet and play Gem Forest. And if you are a risk player, you can increase your coin value up to 300 credits, and even play with a maximum bet of 3,000 credits per round.
Why should you play game Gem Forest Slot at W88?
Gem Forest may be a different type of slot, but it has been improved with a completely different idea from the classic slot game. Before this colorful 3D slot machine appeared in online casinos, Amatic's Hot 27 provided players with classic slot-style entertainment and 27-way winning mechanics.
Specifically, Hot 27 is very similar to Gem Forest, with only fruits and bells and without any wild symbols. However, Gem Forest gives you more chances to win and a higher payout rate.
You can make money quickly and easily just by participating in deposit and spin. Anytime you spin you can earn a bonus.
You have complete control over how much you want to bet, from the lowest to the largest bet. That's why you don't need to worry if you can afford to participate in a Gem Forest spin or not.
Conclusion
In a nutshell, Gem Forest is a slot game that gives players excitement and fun when playing continuously; In addition, you should also try playing Frost Dragon Slot at the bookies, this is an equally attractive ice age dragon-themed game. It is for this reason that more and more players are coming to register an account and participate play Gem Forest Slot.