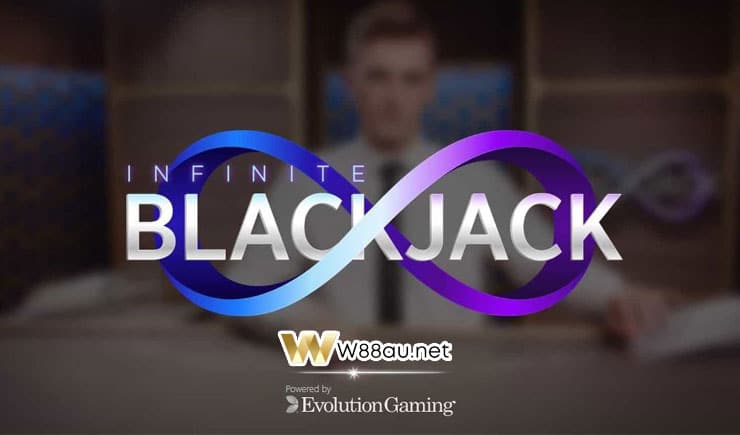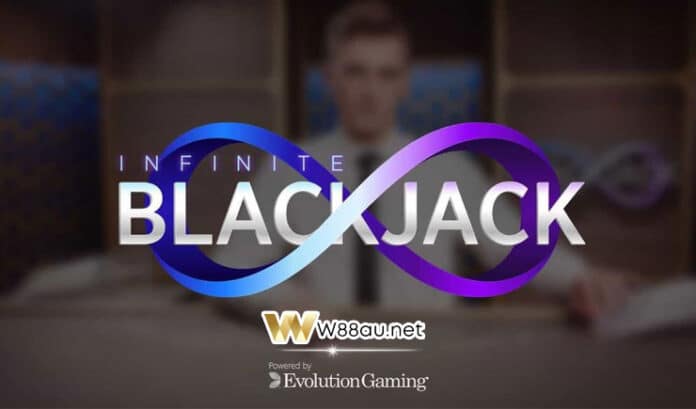 Infinite Blackjack is an online card game played with many players, it can be said that there is always room for anyone who wants to participate. You are the only person sitting across from the dealer, and the game can have multiple players playing at the same time. Learn more about the simple ways to play Infinite Blackjack from the experts of W88 online casino.
An overview of Infinite Blackjack on W88 Casino
The fact that many players can participate at the same time is the main attraction of Infinite Blackjack. How you decide to play that hand is up to you and is completely unrelated to any other player and vice versa. In addition, the game also offers some other types of bets specifically for you to bet freely.
Features and Rules in Live Infinite Blackjack
Unlike most of Evolution Gaming's other blackjack games, Infinite Blackjack has a very distinct game mode. Usually other versions of Blackjack will see the dealing tables behind. However, with this Infinite version, you cannot see the other tables in the back.
Regarding the rules, Infinite Blackjack follows the standard blackjack rules, which are as follows:
Use 8 decks of cards to play.
When the dealer has a score of 17, no more cards will be drawn.
If your hand has Blackjack, it will be paid out at the ratio 3:2
Regular win pays 1:1
Win insurance bets when dealer with Blackjack pays 2:1
Blackjack Card Value
The scoring of the cards will be based on the number on each card. Like 2, 3, 4, 5, 6, 7, 8, 9, 10 = value itself.
With cards like J, Q, K is counted as 10 points.
Depending on the player's rules, the Ace will be counted as 1 point, 10 points and 11 points (in the traditional card). And playing blackjack online, the Ace will be counted as 1/11.
To beat the dealer, you need a total score close to or equal to 21 points, not more than 21 points.
This version uses the Six-card Charlie rule, which allows you to win if you collect all six cards whose value does not exceed 21. You will absolutely win even if the dealer has Blackjack.
Side bets in Infinite Blackjack
This blackjack variant has four different side bet options. This adds to the fun in the game and gives you more betting choices. Among them, the 2 bets "any pair" and "21 + 3", you can find in most of Evolution Gaming's other live blackjack games. Besides, there are 2 other side bets: "3 hot" and "bust it".
The description of those side bets is as follows:
21+3: You win if the first three cards form Flush, Straight or Three of a Kind.
3 Hot: This is a bet on your 2 cards and the dealer's face up card will be worth 19 – 20.
Any pair: Bet if you think your 2 cards will be a pair.
Bust it: Bet when you believe that the dealer is overscore.
How to play Infinite Blackjack on W88 online casino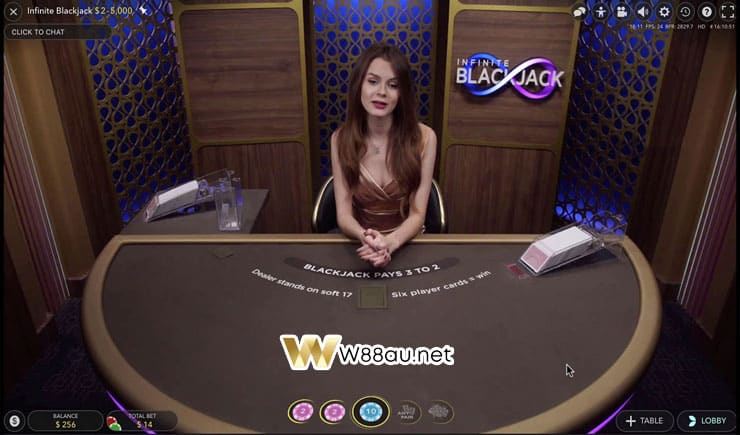 Step 1: Place a bet on the main bet or optional side bets with a minimum bet of $1.
Step 2: Once the game starts and you get your first two cards, you can have the following options for each hand depending on the hand you are dealt.
Draw: When you are below 16, you can usually draw more than once but a maximum of 6 cards.
Stop: Normally, stop when there is a hand of value 17 or more.
Split: When dealt two cards of the same value, you can split and play it as two separate hands.
Double: Double your hand bet to get an extra single card. Normally double when your 2 cards total is 10/11.
Insurance bet: You can choose to place an 'insurance' bet when the dealer's face-up card is an Ace.
Step 3: After you have finished drawing, it will be the turn of the other players, and the dealer is last. Then compare the cards with the dealer to receive a reward.
Conclusion
The great thing about Infinite Blackjack is its simplicity with its beautiful interface. Besides that, there are also attractive side bets. The game is very easy to play, join to earn real money at W88 online bookie now.
>> Related post: How to play Power Blackjack