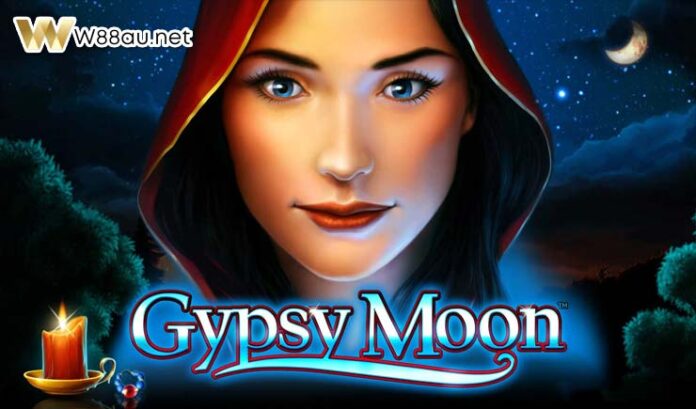 Gypsy Moon Slot is an exciting game with lots of symbols to get rewarded for spinning them. Beautiful graphics, reasonable RTP will be the remarkable point that W88au would like to introduce to you. Let's find out the process and how to play Gypsy Moon Slot at the W88 club slot now!
Overview of Gypsy Moon Slot
Gypsy Moon is an attractive slot game currently available on W88, with a mysterious theme developed by game publisher Spielo. Gypsy Moon Slot is designed with 5 reels and 3 rows, along with 243 paylines that players can choose from with the help of a special button called SUPERPLAY.
The game is designed with sharp and beautiful 3D graphics, set in a hauntingly beautiful starry night with a blue halo spreading across the screen. W88 Gypsy Moon Slot is inspired by the rich culture of gypsies and their belief in a higher power and their ability to predict the future.
IGT is one of the world's leading slot game publishers, the release of Gypsy Moon slot further confirms the professionalism of this game publisher. The game's music is beautiful and glorifies the culture of the gypsies.
With stunning 3D icons and graphics, the Gypsy Moon slot online game is available on multiple platforms, including iOS and Android; Players can also enjoy the game on their desktop and mobile phones.
Popular symbols and special features of Gypsy Moon Slot on W88
Popular symbols of the game
W88 players can enjoy a professional slot game space when they come to Gypsy Moon slot online. The usual symbols that appear on the reels represent the culture of the gypsies, and these include a magnifying glass, a necklace, a ring, tarot cards, a rose and a pendant.
Slot players on W88 can get a large number of winning combinations when they activate the super play mechanics in the Gypsy Moon online slot game.
Special features
This slot game also offers wilds, scatters, and has many free spins that give players a lot of possibilities to win big money pieces.
This slot game does not have a progressive jackpot mechanism like other slots on W88 online bookie. The official RTP of the game is said to be 95%, which is also quite high and attractive. Therefore, gamblers are never short of winning options. Notable features are as follows:
Wild: A beautiful gypsy with blue eyes is the main character, and a player visits her to see the future. She acts as the wild card, and if the woman decides to favor the players, they can land a big win.
Free Spins and Bonus Games: The game is hugely popular with the many free spins it throws at players. Free spins are triggered if the player places 3 or more zodiac signs on the screen. These zodiac cards can also trigger multipliers.
Three Cards: For three cards, gamblers can trigger up to 7 free spins with a 5x multiplier or 10 free spins with a 3x multiplier. The 3rd option is 15 free spins with a 2x multiplier.
Four Cards: When a player gets 4 cards, they have the option to choose between 9 free spins with 5x multiplier, 15 extra spins with 3x multiplier, 20 extra spins with 2x multiplier and 40 Free spins with 1x multiplier.
Five cards: Players can choose from 14 free spins with 5x multiplier, 20 extra spins with 3x multiplier, 30 extra spins with 5x multiplier, and 60 extra spins with multiplier.
How to play Gypsy Moon Slot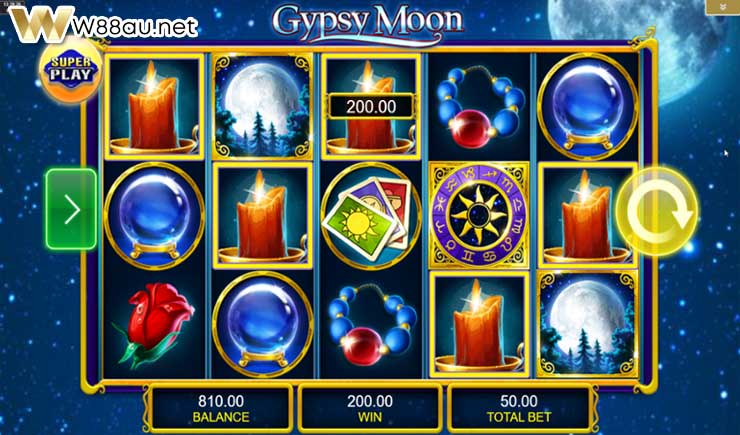 The first quest in Gypsy Moon slot is to place a bet. With a sparkling green arrow, the player can access the bet menu. Here, the player has the freedom to choose his coin value, which can be a minimum of 1 and a maximum of 100.
Although players cannot set the number of active or inactive lines, they can change the total number of lines available using the SUPERPLAY button. Pressing the SUPERPLAY button activates 243 lines of play.
Players can bet up to 5,000 in SUPER MODE, while 3,000 bets are allowed in the slot machine's normal mode.
Conclusion
Gypsy Moon Slot is designed to give W88 players as many winning opportunities as possible. Hopefully this review has helped W88 Slot players have an overview to start playing today.
>> Related: Irish Magic Slot