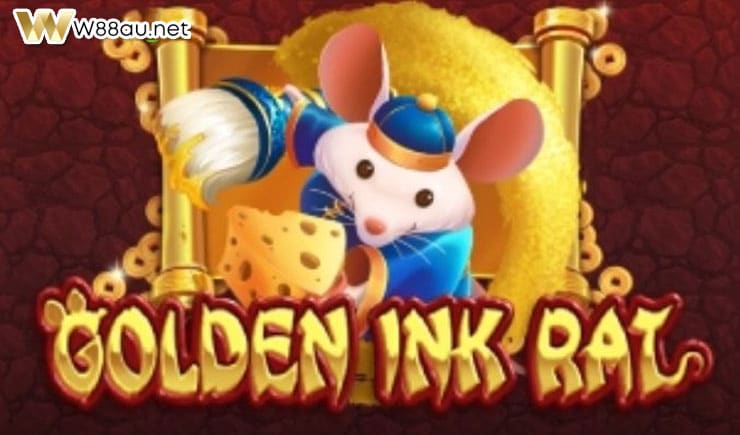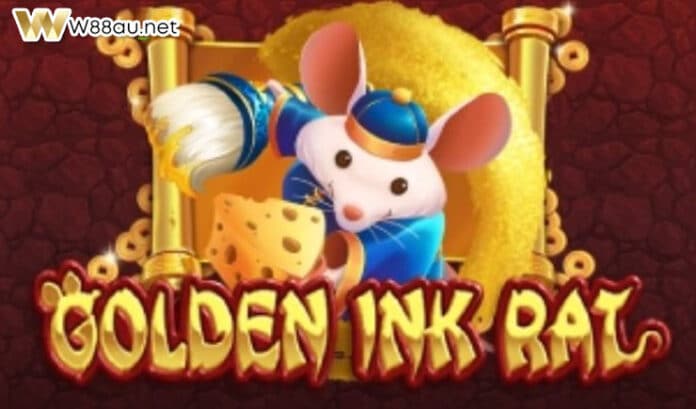 Golden Ink Rat is an exciting slot game from Gameplay Interactive with a Chinese Zodiac theme, currently available at W88 online bookie. It has a bet range of 0.05 to 15.00 making it suitable for all W88 slot players, medium volatility and a player return of 94.53% (RTP). The following article will help you understand more about how to play Golden Ink Rat Slot as well as the bonus features of this slot game.
About Golden Ink Rat Slot
Golden Ink Rat Slot is an Asian themed game published by Gameplay Interactive, this slot has lots of cute little mouse character symbols. In the Chinese Zodiac, the rat is an auspicious symbol representing luck and intelligence.
Golden Ink Rat Slot has a wide variety of winning symbols with different payout values, and with it comes a few bonus features that keep the game interesting and appealing to players on W888 Slots.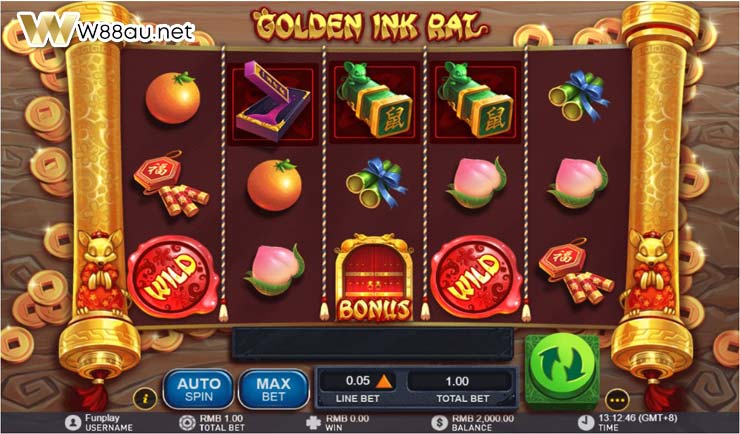 There are, of course, all the traditional slot game favorites, including Wild and Scatter symbols and a free spin. Golden Ink Rat Slot also has a bonus mini game that is triggered when you find three door symbols on the reels screen. All you have to do is choose a door and get the prize from the game publisher.
Golden Ink Rat Bet Limit and Payout
You should adjust your stake before spinning the reels and Golden Ink Rat allows you to bet on any position from 0.05 to 15.00 money units. There are 8 paying symbols that can be matched to any of the 20 fixed paylines. Here is a summary of the paytable from lowest to highest: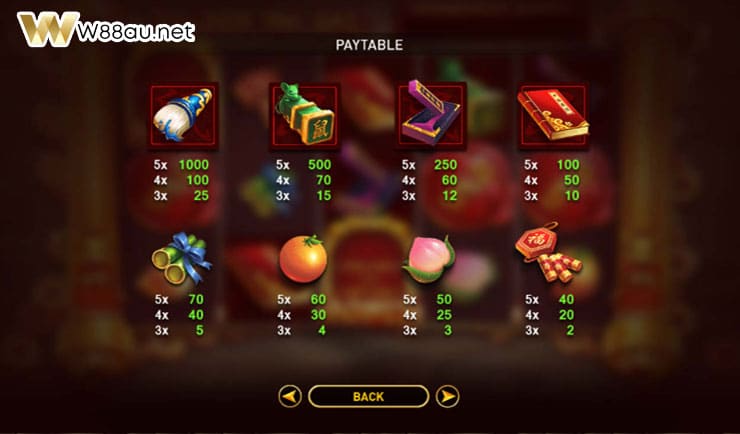 Red Charm: 3 = x2, 4 = x20, 5 = x40
Immortal Peach: 3 = x3, 4 = x25, 5 = x50
Orange: 3 = x4, 4 = x30, 5 = x60
Bamboo: 3 = x5, 4 = x40, 5 = x70
Red Book: 3 = x10, 4 = x50, 5 = x100
Ink Tray: 3 = x12, 4 = x60, 5 = x250
Rat Stamp: 3 = x15, 4 = x70, 5 = x500
Ink Brush: 3 = x25, 4 = x100, 5 = x100
Wild: 2 = x5, 3 = x50, 4 = x500, 5 = x5000
Golden Ink Rat Slots' Bonus Features & Free Spins
In addition to the regular symbols, the Golden Ink Rat has three special symbols, and each offers a different benefit to the player.
Wild Symbol
The red seal in the Golden Ink Rat is the Wild symbol, and it can appear on any reel during the base games and free spins. It can substitute for the normal paying symbols but not the Scatter or the Bonus. Wild symbols give bonuses when they appear in a winning combination: 2x = 5, 3x = 50, 4x = 500, 5x = 5000.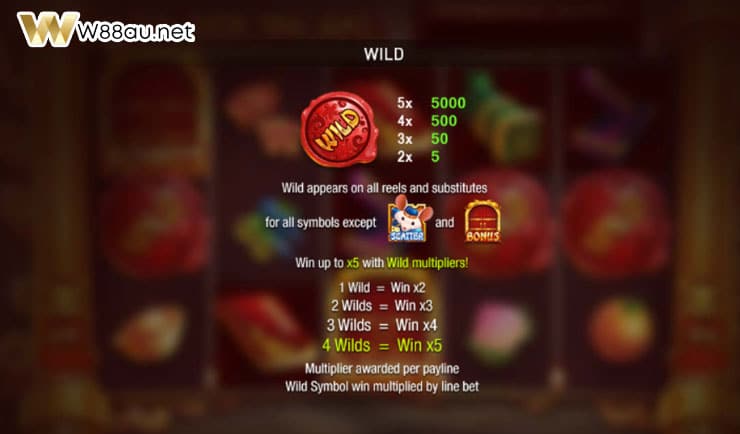 Wild symbols also bring the multiplier up to 5x:
1 Wild = Win x2
2 Wilds = Win x3
3 Wilds = Win 4x
4 Wilds = Win 5x
Scatter Symbol
The White Rat is the Scatter symbol in this slot, and it comes with a bonus as well as a free game trigger, specifically as follows: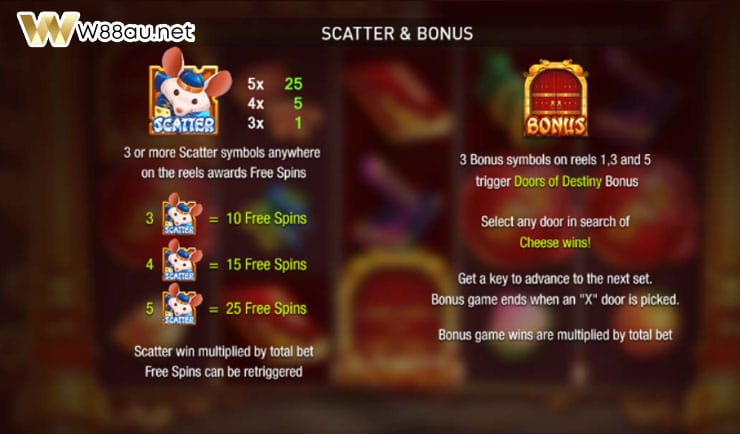 3 = 1x and 10 free spins
4 = 5x and 15 free spins
5 = 25x and 25 free spins
Bonus Symbol
The bonus symbols in this slot are a red and yellow door, and when it appears on reels 1, 3 and 5, it will trigger the Door of Destiny mini-game.
This click and collect game lets you choose one of the doors to open and search for cheese. If you guess correctly, you win and advance to the next round and all bonus game wins are multiplied by the total bet.
Conclusion
This engaging slot game on W88 features cute character icons and cartoon graphics that bring to life the Chinese mythological theme of the Golden Ink Rat Slot. This slot doesn't have too many added features but it has everything you would expect to see in an online video slot game from Gameplay Interactive and W88 online bookie.
>> Related: Wuxia Princess Slot