God of Fortune slot is one of the most popular slot games on W88. This is an easy-to-play, easy-to-win game suitable for all generation, from a young man to a middle-aged bettor. You don't need to learn the complex rules or remember too many terms. Just go read the article below and you will understand how to play God of Fortune slot.
About the game God Of Fortune
Inspired by the character of the God of Fortune of Chinese culture, the Gods of Fortune slot game gives players a space full of luck, wealth and extremely beautiful graphics.
Gods of Fortune developed by GamePlay Interactive slots has a 3-column, 3-row format with 8 fixed paylines. It is worth mentioning that the game has an RTP rate of up to 97.03%. RTP means that over a wide range of games, the average return for 100 bets is 97.03, an extremely respectable number.
Along with the symbols of the God of Wealth, besides, there are traditional Eastern symbols such as: lanterns, dragons, fireworks, paper fans, golden hats, couplets wishes, etc. The main colors are red and yellow that bring players luck and fortune when entering the game.
How to play God of Fortune slot on W88 Slot
To play God Of Fortune slot at the W88 dealer, you just need to follow the simple steps below:
Choose a bet per line between 0.15 and 150 credits in the LINE BET section. At this time, the system will automatically calculate TOTAL BET = LINE BET x 8. You can also select MAX BET to choose the highest bet.
Consider the auto function with 10, 25, 50, 75, 100 or unlimited spins respectively. With this feature, you only need to set the bet once, the next spins, the total bet will remain the same as the original setting.
Click on the expanding arrow to open a more detailed panel where you can set the spin to stop automatically when the win or lose limit is reached.
Hit the spin button and wait for the results. Each time the scroll bar stops, the winnings will be decided by the combinations on the reels based on the paytable. The winnings will be displayed on the play screen.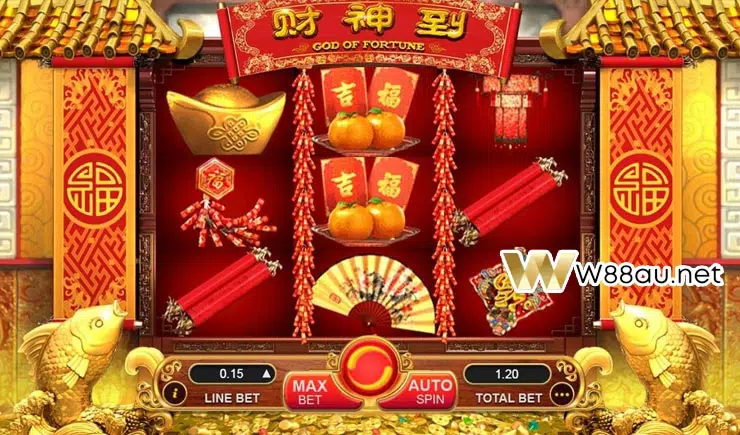 In-game payment symbols
God Of Fortune slot has a total of 8 regular paying symbols and 1 special paying symbol. In it, the coin symbol is paid when it appears in any position and any payline.
Other special features
The "God of Wealth" symbol will double the wealth, turning all symbols into wilds to create the best combination.
The "Golden Bar" symbol will give the player up to 10 free spins when the player collects 3 or more in a single spin.
Jackpots are activated randomly and can help players win huge amounts of money.
Bonus Payment Rules
You just need to land 3 of the same symbols on the payline and you can claim the bonus.
Payouts are calculated from left to right and top to bottom on each bet line.
The payout is the stake per line multiplied by the symbol's payout ratio.
Payout only for the highest winning combination.
Winnings and turns will be void if a technical error occurs.
Betting experience on God of Fortune slot W88
Do not abuse "Auto spin"
Indeed, the Auto spin feature of all types of slots is very convenient. Because it helps players save time and effort to repeatedly press the spin button. However, if you do not control this, the possibility of losing all your money is very high.
If you are new then it is best not to play God of Fortune this way. Or if you want to experiment, choose auto spin at 10 – 50 times.
Note when choosing bet lines
Currently, God of Fortune review on W88 Online has 243 bet lines with different bonus levels. Most players often choose as many lines as possible, because the higher the winning rate. This way of playing is mainly for people with very high betting capital.
Conversely, if you do not have much capital, then you should pay special attention to lines 1, 2, 3, 4, 5, 7, 9, 10, 11, 13, 14, 17, 19, 20 , 21, 23,… These are the lines that W88au.net experts find to appear the most.
In addition, you should play God of Fortune regularly to be able to withdraw the rules and frequency of these bet lines.
Conclusion on God of Fortune Slot
The buttons of God Of Fortune slot are very intuitive, the game's graphics are attractive but not colorful; and are simple and convenient, so it attracts more players than ever.
With a simple way to play, the ability to win easily, once you play, you will receive a reward. Hurry up and register W88 to experience this exciting game.
See more: How to play Slots online