Phantom Thief Slot is one of the most popular slot games that players are interested in today because of its simple and easy-to-win games, as well as the game with the most interesting graphics and gameplay today on the W88 Slot. Read the review and learn how to bet on Phantom Thief Slot in the following article.
Introducing Phantom Thief slot game
Phantom Thief is a unique online slot game designed with 5 reels and 30 paylines from the publisher Gameplay Interactive. When participating in this game, you will be transformed into a thief and perform a theft of the century.
Phantom Thief slot allows players to bet a minimum of 0.90 coins and a maximum of 6000 coins on each spin with an RTP return rate of up to 95%. The system will only pay players in order from left to right.
To win, the player simply spins the reels to create winning combinations on 30 paylines.
With a unique design, eye-catching graphics and vivid images and sounds, Phantom Thief will surely give you an unforgettable experience.
The reels filled with beautiful crowns and jewels are the main symbol of this game. In addition, a lot of attractive bonus features are waiting for you at Phantom Thief after mastering Slot game terms.
Symbols & Features on W88 Phantom Thief slot game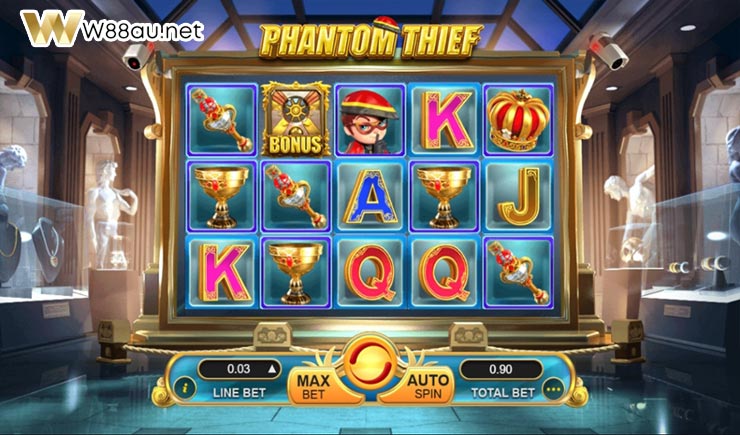 Regular Symbols
Phantom Thief have regular symbols that pay out in order from low to high. Where the highest paying symbol is Thief, if you combine these 5 symbols on 1 payline it will trigger a maximum bonus of 800 times your stake.
The medium paying symbols include: crown, trophy and scepter, and the lowest paying symbols are J, Q, K, A.
Wild symbol
The Wild symbol appears on reels 2, 3 and 4. This symbol can replace all other symbols except 3 Scatters. Wild symbols can appear during the free spins and main game.
Scatter Symbol
There are 3 Scatter symbols: the green Triangle pendant, the blue square pendant, and the golden hexagon pendant.
Bonus symbol
The Bonus symbol is displayed with an image of a locked vault. If you can match 3 bonus symbols, you will trigger the free spins.
Cascading scroll feature
The cascading reel feature will cause the winning symbols to disappear and be replaced by new symbols. This way, players can increase their chances of winning more from 1 spin.
Free Spins Feature
To trigger the free spins you need to land 3 Bonus symbols on the reels. You can get up to 6 free spins when activated.
When playing the free spins, a new set of symbols will appear and offer a higher chance of paying out. Besides, if you can keep matching 3 or more Bonus symbols at the free spins, you will have a chance to get up to 4 more free spins and more chances to win.
Pay Rate Table of W88 Phantom Thief Slot
Symbols will be calculated at the value of 5x, 4x and 3x respectively:
Thief: 800, 300 and 50
Crown: 200, 60, and 30
Gold Cup: 150, 50 and 25
Scepter: 125, 40 and 20
A: 100, 35, and 15
K: 80, 25, and 10
Q: 80, 25 and 10
J: 65, 20, and 50
Review the game Phantom Thief from W88 expert perspective
Phantom Thief Is A Great Slot Game
Phantom Thief is an online slot game released by the redemption slot provider Gameplay Interactive. For slot players who enjoy exciting adventures or escapes, this high-paced spin game from slot provider machine Gameplay has been specially designed for them.
The Theme And Design Of The Phantom Thief Slot Game
Phantom Thief is an online slot from online casino provider Gameplay Interactive inspired by a story about a museum robbery.
First of all, the soundtrack is perfectly appropriate in investigating a robbery scene and certainly creates suspense for the player. What adds to the suspense is the jewelry shop where the Phantom Thief robber tries to evade the police and search for symbols to trigger the free spins and win.
This lively scene is accompanied by a tense, stirring soundtrack, perfect for any heist. In addition, other slot games such as Money Monkey Slot or Lucky Bomber Slot also have the same rating as Phantom Thief Slot.
Conclusion
Above is the most complete guide to playing Phantom Thief at the W88 slot. Hopefully Phantom Thief Slot will become one of your favorite games and these shares will help you easily get extremely attractive rewards.