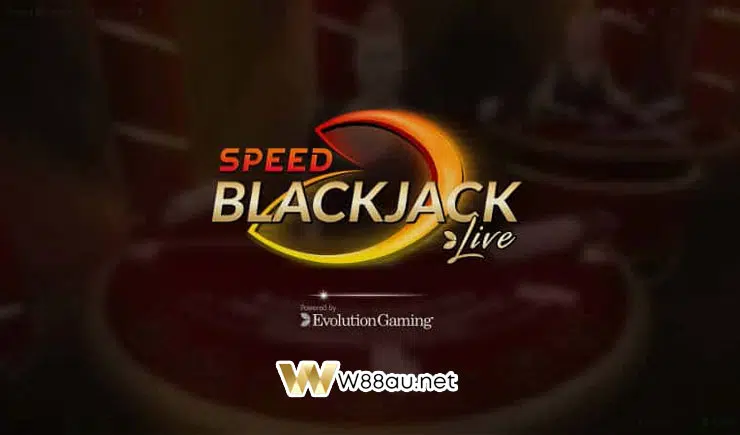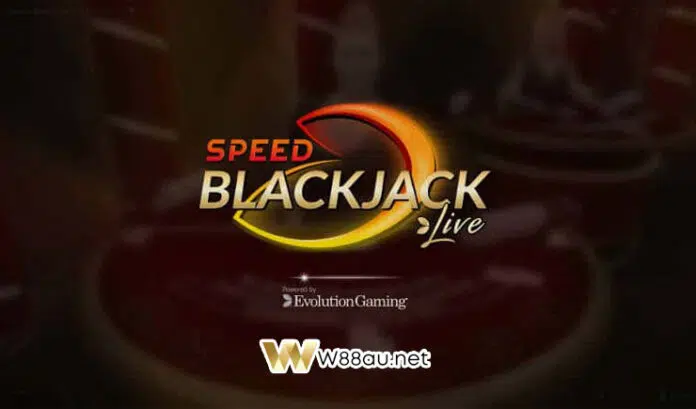 Evolution Gaming is a leading Live Casino games provider that has just developed and launched Speed Blackjack, a super fast Live Blackjack variant. Currently, players of W88 online bookie can experience this game right at W88 online casino. So how to play Speed Blackjack and what strategies should be applied, read the following sharing from W88 casino experts.
Overview of Speed Blackjack (Evolution) on W88 online casino
Evolution's Speed ​​Blackjack game is also designed to follow the same rules as regular Live Blackjack on W88 online gaming. But in Speed ​​Blackjack one key difference is the order of trades when it comes time for players to make their decisions. In this new version from Evolution Gaming, each player will be dealt the first two cards as in normal Blackjack.
Speed Blackjack is designed by the developer to play 30% to 40% faster than the standard Blackjack game to create excitement for the game. This means that each player's betting and decision-making time will be reduced by 7 seconds.
This Speed Blackjack game offers two new Autoplay features. If a W88 player has a hand of value greater than 12 and does not make a timely decision, the system will automatically give you a stand. With a total of hands less than 11, the player's failure to make a decision within a certain time will automatically make an additional draw.
Speed Blackjack Basic Rules and Gameplay
Basic Rules and Gameplay
Speed ​​Blackjack will use 8 decks of cards, up to 7 players at the same table. The standard rules of the professional casinos in Vegas will apply in this game, which means that the player will receive two cards and try Blackjack.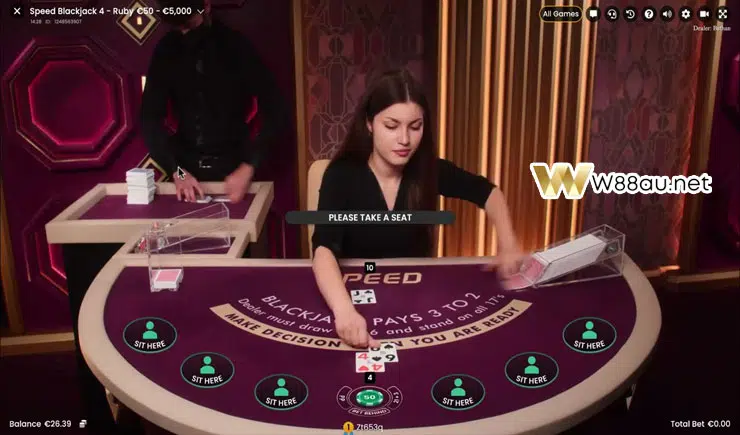 After being dealt 2 cards, all players on the table now simultaneously have the choices of Hit, Double or Split. Players have the right to make the fastest decision to get their next card first.
This card pattern continues until all players present on the Speed Blackjack table have made their decisions and all required additional cards have been dealt.
On the bookie dealer's side, they stand on both soft and hard 17 points. A natural payline pays 3:2, while the Insurance bet pays 2:1.
Side bets of the game
A round of Live Speed Blackjack begins with a player placing a bet on the main round. If they wish, they can also participate in playing one of the side bets available in Speed Blackjack which are Perfect Pairs and 21 + 3.
The RTP in the main round is 99.29% and the RTP paid in the side bet will be 95.9% for Perfect Pairs, and the RTP will be 96.3% for 21+3.
Strategies to win Speed Blackjack
According to professional Blackjack players on W88 bookie, there is currently no specific effective strategy you can use for this Speed ​​Blackjack variant. Since the algorithm used to build this game is the same as in the standard version, you can completely apply the basic Blackjack strategies you already know to play Speed ​​Blackjack.
The important thing you need to remember when playing Speed Blackjack is to use your limited time and make decisions quickly and accurately, or simply use the cheat table for the game that the dealer offers. stands on all 17s. This will help you reduce the dealer advantage to 0.71%, which is pretty low, but admittedly.
Another useful piece of advice from professional Speed Blackjack players is to manage your betting account wisely, and set a betting limit then stick to it without risking it. And do not lose more than you can afford when participating in Speed Blackjack betting.
Conclusion
Speed Blackjack Evolution Gaming is considered one of the exciting and dramatic variations of traditional Blackjack that players can participate in right on the W88 online bookie. With the above article, you are sure to have a lot more confidence when playing Speed Blackjack from today.
>> Related: How to play Infinite Blackjack