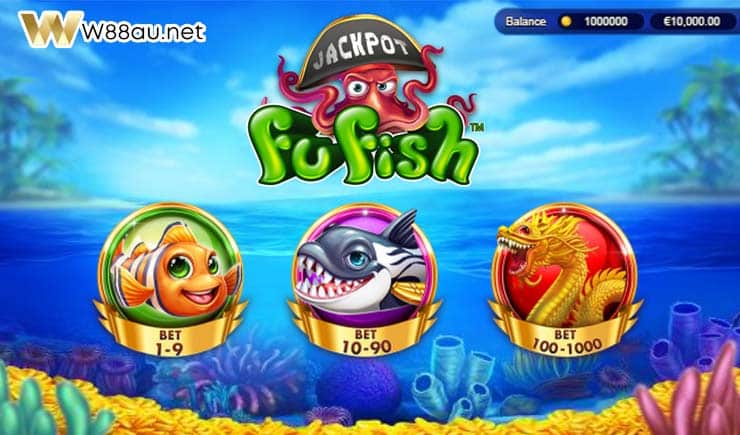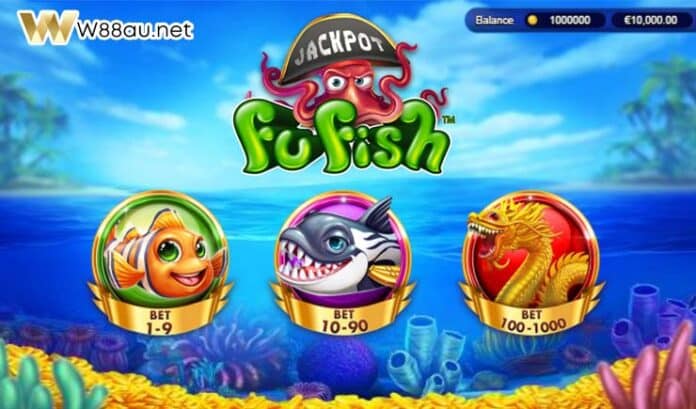 Shooting fish in any bookie is available, but talking about interesting levels and attractive bonuses, you definitely cannot ignore the Fu Fish Jackpot game at the prestigious W88 Online Bookie developed by Skywind. How to play this game and how to win big bonuses from Fu Fish Jackpot will be shared by experts from W88 in the article below.
What is the Fu Fish Jackpot casino game?
Before learning the strategy of playing this game, you need to know the rules and how to play Fu Fish Jackpot at W88 casino online. A game Fu Fish Jackpot table allows up to 4 people to participate at the same time. You will use your gun to shoot fish swimming in the aquarium, if you hit it, you will be rewarded.
Each type of fish will correspond to a reward multiplier. In particular, Fu Fish Jackpot has 2 types of fish x2 (yellow fish and blue fish) instead of one species like other games. There are 3 types of tables for you to choose including Bet 1 – 9, Bet 10 – 90 and Bet 100 – 1000.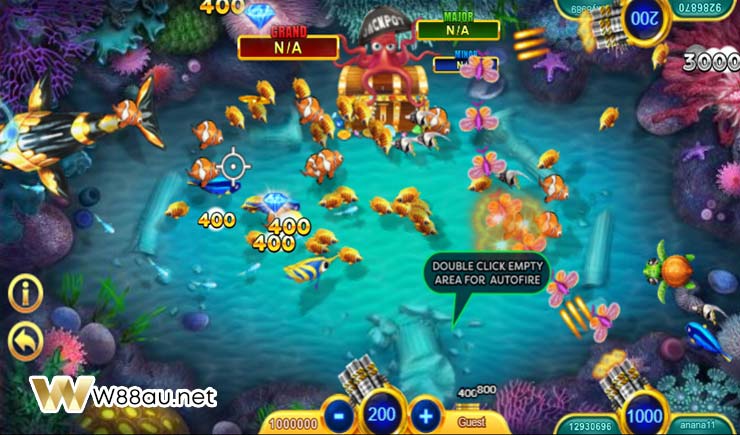 The low level fish provided will have a bonus from x2 to x18 for each fish you kill. Medium sized goldfish and items can provide bonuses from x20 to x80 capital.
The RTP of Fu Fish Jackpot is up to 97%, which is considered by experts and professional players to be a very high RTP at the moment in the category of online fish shooting games on W88.
Bonus Features in Fu Fish Jackpot
Multiplier
Some fish will when appearing in the tank will be surrounded by bubbles and when the player destroys them will be rewarded by a random multiplier up to x5.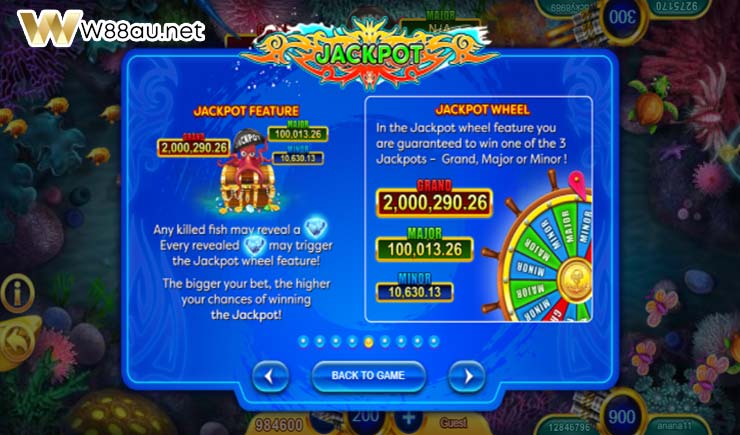 Bomb
Floating bombs will sometimes appear on the screen and when you shoot and detonate a bomb all the fish on the screen (excluding dragons) will be destroyed, and you can win numbers very high stakes, up to 5,000x. In case the bomb goes off but there are no fish swimming around, you will only get 5 times your stake.
Jackpot
At any time there will be a special fish with a diamond in it, now if you destroy that fish it will trigger the jackpot wheel feature. This jackpot spin gives you a chance to win one of 3 exciting progressive jackpot options.
Fish shooting strategy in Fu Fish Jackpot to win bonuses
Although it is the same shooting game, if you want to win big at W88 bookie's Fu Fish Jackpot, you must master the following strategies:
First, as a newbie, do not rush to recharge a lot and play big tables and shoot uncontrollably. You should choose the table Bet 1 – 9 to play to get used to how to control the gun and shoot fish.
You can adjust the ammo level of the guns from 1 to 9 (with the lowest bet). When aiming to shoot low bonus fish like x2, you should adjust the ammo level from 1 to 5.
Raise ammo level 6 to 9 when shooting fish x6 or more. Since each level will correspond to the amount of money you have to spend on the bullets, be careful.
When shooting fish, don't try to aim at dragons (bonus x200 – 888) or hammer fish (x50 – 500) because that's just bait, the ability to shoot is extremely small.
Aim for the fish that swim in schools or aim at the wall of the tank for the bullets to bounce back, the chance of hitting the fish will increase significantly. In particular, despite the same reward ratio of x2, the yellow fish seem easier to kill than the small blue fish.
Conclusion
Fu Fish Jackpot is currently an attractive fish shooting game that attracts many participants on W88 online bookie. If you are looking to experience a simple and fun online fish shooting game with high rewards, then Fu Fish Jackpot casino game is definitely an option you cannot ignore.
>> Related: How to play Fishing God online