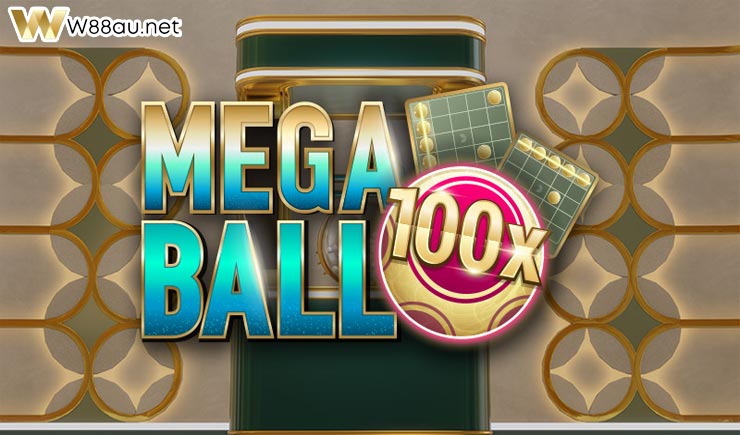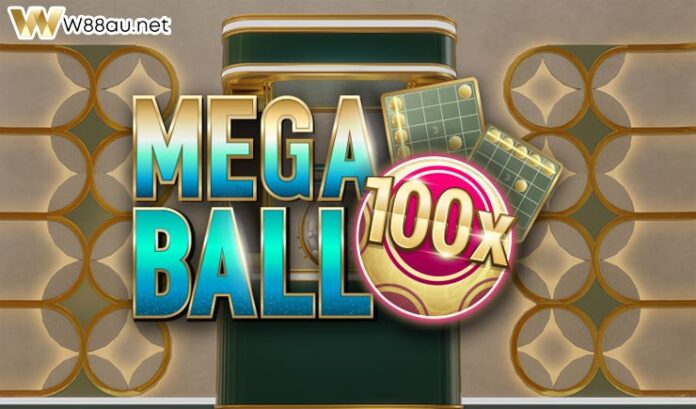 If you are looking for the most fun and exciting game in an online Casino, then Mega Ball from the publisher Evolution Gaming will bring you the most exciting experiences. Let's learn about how to play Mega Ball Evolution in detail and simple for newbies in the following article from the experts of W88 online bookie.
Overview of Mega Ball (Evolution)
As a title published by Evolution Gaming and streamed from the publisher's studio in Riga, Latvia that allows for a stable and high quality stream.
For the current Mega Ball on W88 Online, players can play comfortably on both phones and computers as long as there is a stable internet connection. However, in the opinion of many players, you will get a better experience when playing on the computer with a wider and easier to observe interface.
Mega Ball from Evolution Gaming has no limit on the number of players at the same time, which is a great thing and a lot of fun for those who like to play mind games in groups.
The payout that Mega Ball gives players is huge, up to 1,000,000x the initial capital.
Special Features and Play Game of Mega Ball
The way the Mega Ball live casino works is programmed in a pretty unique way. At first glance it feels similar to bingo because there are numbered balls spinning in the main chamber at the same time. While watching the numbered balls spin is when participants feel the most excited.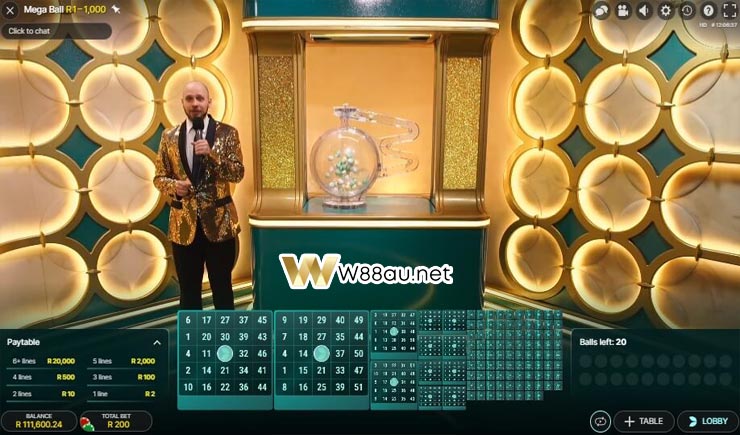 To start playing Mega Ball you need to buy numbered cards and the maximum number of cards you can buy is 200 cards in a single round. Each numbered ball that appears corresponding to a number on your card is one step closer to the big win. If the numbers appear to match the number on your card, the organizer will announce the corresponding prize that you have received.
After twenty balls appear, the Mega Ball will appear last. This ball comes with an attached multiplier, which can go up to 100x. This ball is what everyone looks forward to when participating in Mega Ball because it can help you make a huge profit.
Mega Ball winning combinations on W88 online
When buying a card and during the lottery, the more numbers appear on more lines of your card, the higher your chances of winning. There are a total of 24 numbers on each card and 5 horizontal and 5 vertical lines. Paylines will be paid based on horizontal, vertical and diagonal lines.
1 line horizontally, vertically or diagonally and you get 1x your stake
2 lines and you will get 5 times your stake
3 lines and you will get 50 times your stake
4 lines and you will get 250 times your stake
5 lines and you get 1,000 x your stake
6 lines or more and you get 10,000x your stake
Simple steps to play Mega Ball for beginners on W88
Sign in to Mega Ball
In the W88 mobile casino you go to the Live Casino section then select the Mega Ball. W88's casino will direct you to Evolution Gaming's live studio where you can take part in the Mega Ball.
Choose the value and number of cards
At the bottom of the screen, you can adjust the Card Value with a minimum purchase of €0.10 and a maximum purchase of €100.00 per card, with up to a maximum of 200 cards.
20 Balls and Mega Ball are Drawn
The 20 balls will spin first, and the last ball which is the Mega Ball will spin after the turn of those 20 balls. Next will be based on the combinations and numbers that appear on your card to receive rewards.
Conclusion
Currently Live Mega Ball is one of the most profitable games for W88 players so it is always chosen and recommended. Join today to quickly collect attractive cash rewards with Mega Ball online from Evolution Gaming.
>> Other games from Evolution: