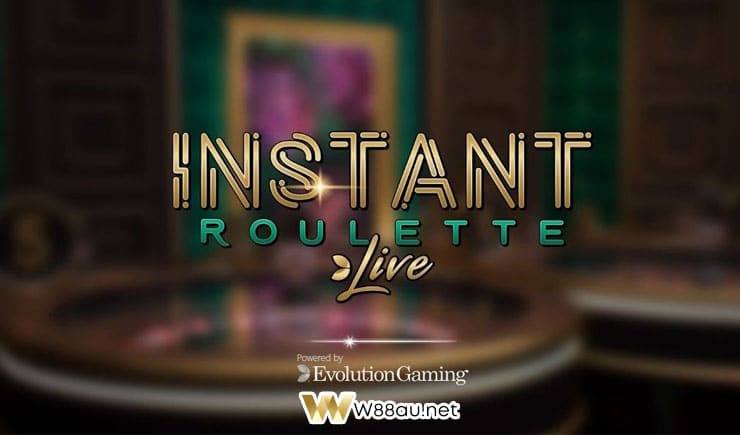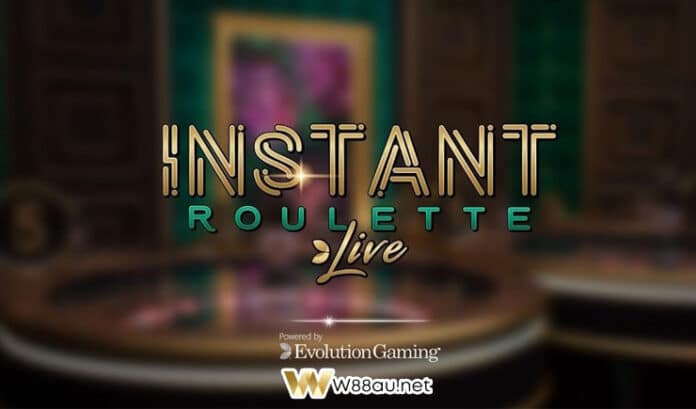 Evolution Gaming developed and launched Instant Roulette which is a fast paced game that has 12 Roulette wheels spinning at the same time. Instant Roulette on W88 Casino is the world's fastest Live Roulette game with unlimited betting time so players can have enough time to analyze and place bets. Let's learn more about how to play and the experience of playing Instant Roulette on WW88 online bookie.
Introducing Instant Roulette rules on W88
Instant Roulette is a game with very simple rules and easy to understand even if you are playing this game for the first time. The following rules:
Predict the number of balls that will fall based on personal analysis.
The wheels will be numbered from 1 to 36 and a zero.
Players can play at their own pace because there is no time limit to bet like other Roulette games. So you can get started at any time by clicking the "play now" button when you're ready to join.
Players can change their bets whenever they want.
The wheel closest to the ball's next drop is chosen as the wheel on which you will bet the round.
How to play Instant Roulette Live on W88 for newbies
The rules of this Instant Roulette are similar to the rules of French Roulette, so even if you are a new player, you do not need to worry about how to play. The only difference in Instant Roulette is that the 12 wheels spin at the same time and the tempo of the game.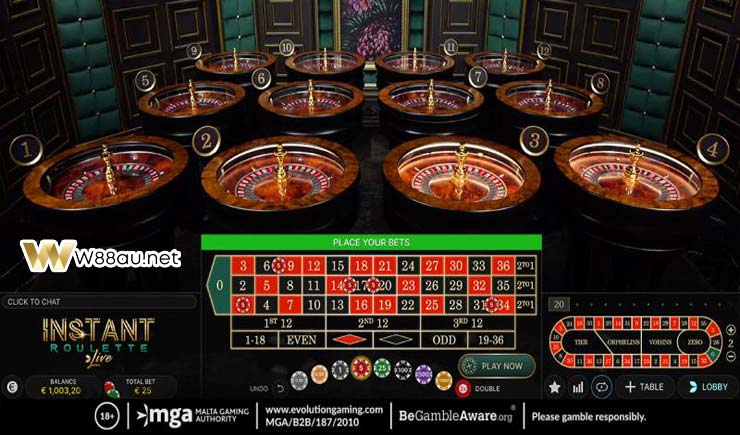 To play Instant Roulette, just follow these simple and detailed instructions:
The boxes, where you will place your bet, are at the bottom of the screen.
At the chip screen, proceed to select the bet value you want to bet on each chip.
After selecting the chip, click on the corresponding bet point to place a bet.
Hit 'undo' if you want to change your bet value and choose a different bet.
Click 'play now' once your bet has been placed to start the game.
There are 2 to 3 glowing wheels that simultaneously signal which wheel is closest to the drop and only one of these will automatically be selected as the wheel you will bet on for that round.
The game lens will zoom in and focus on the selected wheel when it lands on one of the numbered tiles. The player wins the bet if the bet includes the number on which the ball landed.
Once a game round is over, the player will be asked to either proceed to place a new bet on the next round or simply click the 'reset bet' button to use your most recent bet setup and continue play again.
The types of bets and payout percentages will be described in detail in the table below:
| | | | |
| --- | --- | --- | --- |
| Bet type | Minimum bet | Maximum bet | Payouts |
| Straight-Up | 0.4 | 50 | 35:1 |
| Split | 0.4 | 100 | 17:1 |
| Street | 0.4 | 150 | 11:1 |
| Corner | 0.4 | 200 | 8:1 |
| Line | 0.4 | 300 | 5:1 |
| Column | 0.4 | 600 | 2:1 |
| Dozen | 0.4 | 600 | 2:1 |
| Red/Black | 0.4 | 1,000 | 1:1 |
| Even/Odd | 0.4 | 1,000 | 1:1 |
| 1-18/19-36 | 0.4 | 1,000 | 1:1 |
Types of bets in Instant Roulette
Players can choose to bet on a single or separate number sequence. The Instant Roulette game includes inside and outside bets and has different payouts.
Inside bets
A bet where money is placed on numbered spaces or lines in between those spaces. Including Straight up, Split bet, Street bet, Corner bet, Line bet.
Outside bets
Bets are placed on cells at the bottom of the screen or on the side of the main grid of numbers. Includes Column bet, Dozen bet, Red/Black, Even/Odd, and 1-18/19-36.
Conclusion
Instant Roulette from the publisher Evolution Gaming is currently very attractive to players on W88 online bookie. The detailed and easy-to-understand instructions on how to play for newbies above will definitely help you confidently join Instant Roulette from today.
>> Related: How to play Mega Ball