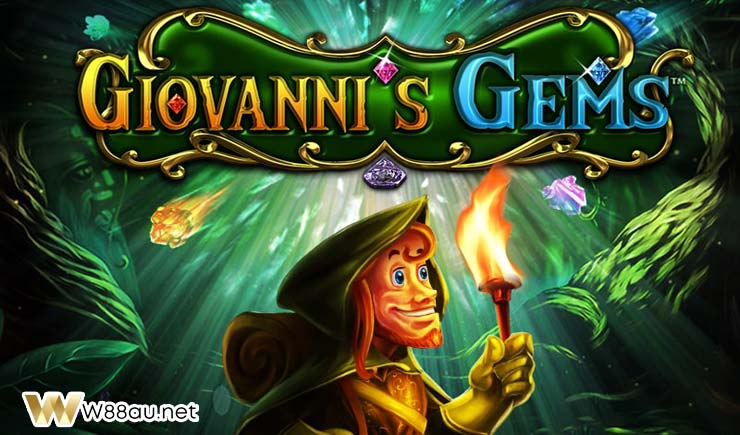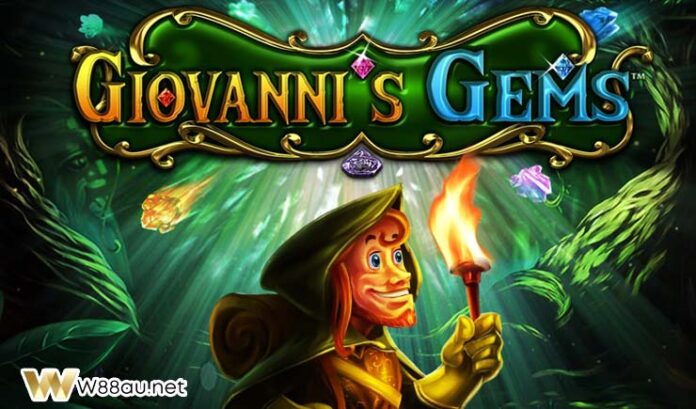 Giovanni's Gems is an online slot machine built for the modern player, developed and published by one of the leading game publishers, Betsoft. This slot is fast paced, with medium variance and an RTP of 94.9% to attract players. The following Giovanni's Gems slot review will help you get enough information when participating in playing on W88 official bookie.
Overall of Giovanni's Gems Slot
Is a game set in a dark mine, where you will discover many interesting things and unexpected rewards with your friend in the game Giovanni. Giovanni's Gems slot is designed in a 7×7 grid covered with diamonds, gems and crystals that you can collect and form winning combinations to get richer.
This slot game is designed to fit all mobile devices such as phones, tablets, laptops. However, to ensure the most perfect game experience, players on W88 online bookie recommend playing on the computer interface.
Giovanni's Gems slot is also designed with 3D graphics which is the highlight of Betsoft. With that comes special features that you can expect in an exciting slot game. More specifically, the cascading reels included in the slot ensure that you always have a second chance to claim extra prizes when you spin the slot.
Besides the free spins, doubles game and symbol swap functionality that only Giovanni's Gems Slot has, will definitely give you more opportunities to make a profit.
How to play Giovanni's Gems Slot on W88 bookie
This is a slot game that is rated by players as easy to play. You can easily adjust your stake by choosing the value of the coin, then gradually increase the bet multiplier up to 5.
The minimum bet to participate in the slot spin is 0.30 credits (0.01 per coin), which is a suitable and safe bet for those who are new to learning about this slot game. When you have experience and strong capital, you can participate with a maximum bet of up to 150 credits.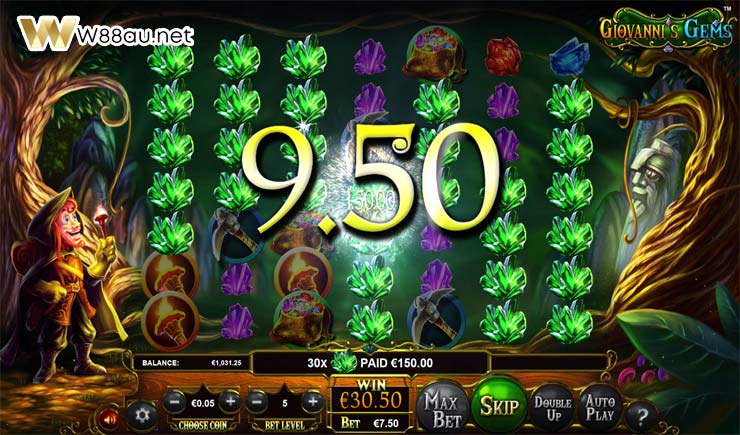 Once you have set the bet level, you just need to press the SPIN button to start the spin; or after setting the amount for each spin and the number of spins you want to participate in, you just need to click Autoplay to be able to free your hands.
This slot game is special in that it does not have any fixed paylines. Instead, Giovanni's Gems Slot relies on a "cluster payout" mechanism to form winning combinations and award players prizes. This is really what makes the game so much more interesting
Special Features in Giovanni's Gems Slot Game

In Giovanni's Gems slot, players can only win by forming clusters of matching symbols. Clusters are here understood as groups of five or more identical symbols adjacent in any direction.
Cascading feature
Players can also form clusters with up to 25 symbols towards this slot's jackpot. Giovanni's Gems slot also explodes all winning clusters so that new symbols land in their places, thereby giving W88 bookie players an extra chance to win prizes but no extra bets.
Special symbol
The most valuable symbols you can collect while playing slot for real money are the Giovanni and coal symbols. The Giovanni symbol is the Scatter symbol in this slot game, it can be paid in any position whether forming a cluster or not. Landing 5-25 Scatter symbols in a round will land you an instant payout of up to 1,500 coins plus 50 free spins.
What's even more special about this slot is that any coal symbol that appears next to the winning cluster during the free spins will automatically convert to a diamond bonus symbol. And the diamond symbol when combined can pay up to 15,000 coins .
Conclusion
With sharp and colorful graphics, Giovanni's Gems Slot is really a slot worth playing today on W88 online bookie. The review has given you full information, join the demo to experience or play for real to win money.
>> Related: Wealth Inn Slot Review: How to play and Bonus features