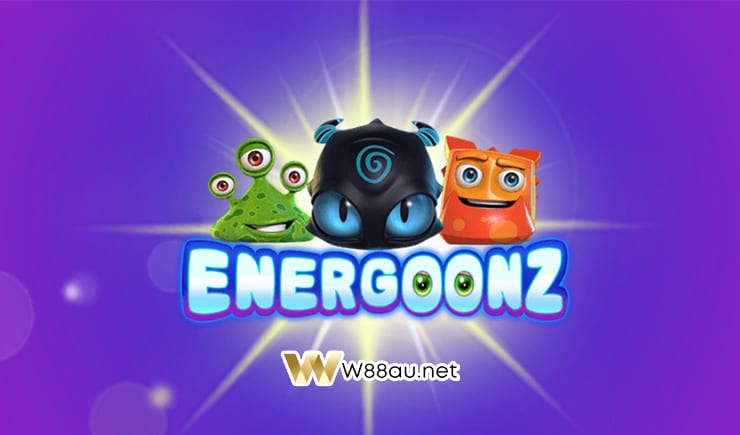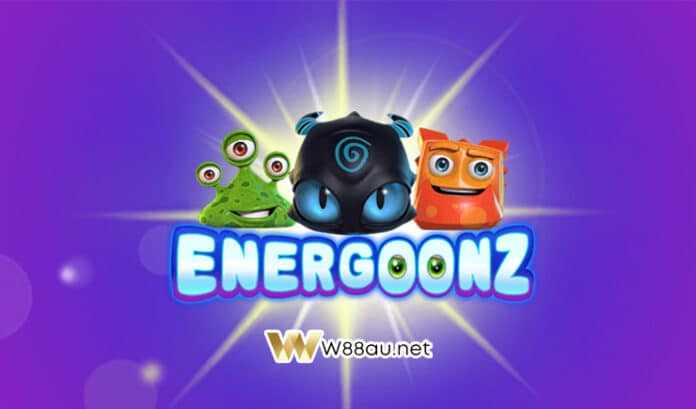 Energoonz Slot is a sci-fi themed online slot game that features 5 stacked reels with cute creatures and different energy symbols. Instead of using fixed paylines, the game operates on creative cascading reels. Let's find out how to play Energoonz Slot in detail available on W88 online bookie in the article below.
Introducing Energoonz Slot at W88 online bookie
Energoonz is a 5×5 reel Slot game released by Play'n GO provider with adorable creatures. Players need to match at least 3 fun and exciting symbols to increase the number of winning lines and maximize energy with the balls.
The characters in this game include Goonz, the fun animation into the game. Goonz looks like an alien with the orange, green and dark game versions. There are a bunch of different creatures in the bonus round. To the left of the creatures is a multiplier, the player's wins are shown here. On the right is the power generator that comes into play during the bonus feature.
Game Overview
Developer: Play'n GO.
RTP: 97%. This is considered a very high RTP compared to other common slot games.
Reels: 5X5
Minimum bet: 0.2 credits
Max bet: 40 credits
Trial: Yes
With a wide range of stakes and high RTP rates, Enegoonz slot is loved by many players and quickly becomes one of the most popular slots in W88 slots.
According to statistics from W88 bookie, about 75% of players participate in bets with bets from 0.4 – 0.8 units. This proves that the slot games online attracts a large number of people with small capital, and newcomers to the slot.
Instructions on how to play Energoonz Slot
Game Rules and Bonus features
Energoonz Slot includes a Wild (Plasma) symbol, the Wild symbol replacing all other symbols to help form winning combinations. Winning combinations are removed after dropping the collected symbols and are left to form a new winning combination.
Wild symbols slots appears at the center symbol when a winning combination of 3 symbols is removed from the grid. The win multiplier is increased with each new drop, if all symbols are removed from the grid, the player gets the win and clears all special.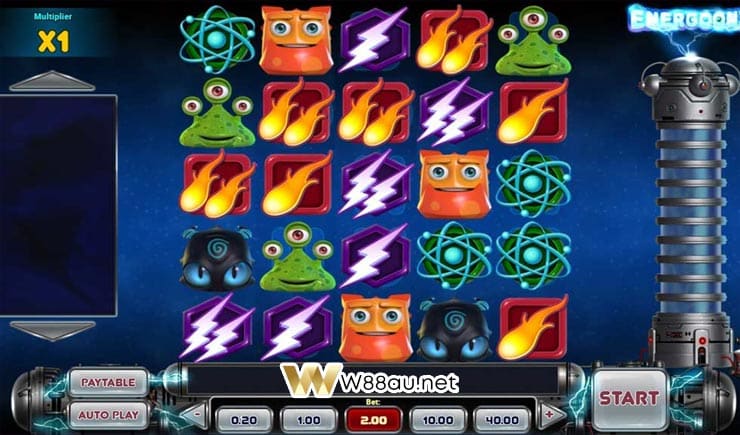 Energoonz consists of a bonus game, the bonus game is a collection of many free game rounds and is activated if a column with a Bonus is cleared of all symbols. The multiplier is determined based on the number of Bonus columns cleared, W88 online players win when there are at least 5 matching symbols anywhere on the grid, all winnings in the bonus game are multiplied by the multiplier.
In the bonus game, a different symbol combination is used and the Wild symbol does not appear. When there are at least 5 bonus symbols (plasma) in the bonus game, another bonus round will be awarded, up to a maximum of 20 consecutive bonus rounds. Another bonus round is awarded for each plasma in the winning combination.
Paying symbols in the game
Main Symbols
Symbols and payouts in 5X, 4X and 3X
Energoonz Black: 30000, 3000, 600
Energoonz Orange: 18000, 1800, 420
Energoonz Green: 18000, 1800, 420
Lightning: 12000, 1500, 360
2 Lightning: 3000, 600, 180
Fire: 9000, 1200, 300
2 Fire: 9000, 1200, 300
Molecular: 6000, 900, 240
3 Fire: 3000, 600, 180
Regular Symbols
There are also regular symbols with different payouts that you can see in the game's info. These regular symbols include:
Gray white creature
Pink creature
Light purple creature
Orange creature
Golden creature
Blue creature
Dark purple creature
Light green creature
Red-eared golden creature
Dark green creature
Conclusion
So the above sharing cover has helped players understand how to play and the payouts of Energoonz Slot. Players can also experience many other attractive slot games released by Play'n GO at W88 online bookie.
>> Related: Gigantoonz Slot