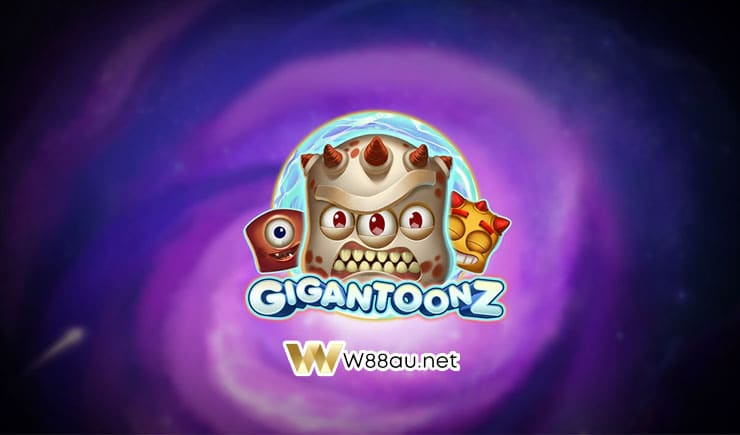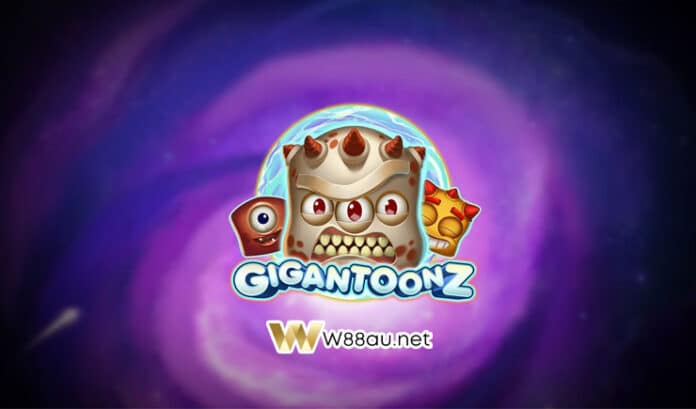 Gigantoonz is a newly launched slot game in the famous game publisher's Play'n Go Toonz series, and the Gigantoonz slot is also designed by Play'n Go with an 8×8 grid with a stacking feature. Find out more about this slot game in our review of the game and bonus features below from a W88 online bookie expert.
Overview of Gigantoonz on W88 bookie
Gigantoonz Slot can be seen as the perfect combination between Reactoonz 2 and Dr Toonz that was previously released by Play'n Go; However, this slot game has also had a few notable changes compared to previous games.
The display of the game is enlarged and is played on an 8×8 grid. This expansion does not equate to more wins by slot players on W88, as slot players need at least 6 matching symbols to form winning combinations.
In terms of graphics, Gigantoonz has a neat, organized and less cluttered layout than ever before so that players can easily make bets accurately and quickly. The game slot online is also designed with a cluster tracker on the left and a Quantum Meter on the right ready to go.
How to play Gigatoonz Slot for beginners
Gigantoonz Slot possesses gameplay for volatility along with a compelling mathematical model. Compared to other slot games that have been released by Play'n Go before, Gigatoonz's RTP has dropped a few points and is only at laf 96.25%; According to experts from W88au.net, this RTP level is considered quite low.
Slot players can enter bets with a minimum from 20 p/c up to a maximum bet of £/€100 per slot spin. The cute Toonz symbols make up player-paying combinations, including five one-eye lows worth 5-20 times a cluster over 30 and five binocular highs worth 50-1,250x for a winning cluster of 30+ symbols.
Winning clusters are removed from the table so that new symbols can fall and fill the grid based on the cascading feature. Cascades continue like this until no new winning clusters are formed.
Slot symbols and special features of Gigatoonz on W88
Mega Symbols
Mega symbols appear in 2×2, 3×3, 4×4, 5×5, 6×6 or 7×7 grids. When a winning cluster is combined, each mega symbol counts as a unique symbol, but its cluster value is determined by a random number up to 13.
Each winning mega symbol will leave a wild on the grid when it is cleared, and if a mega symbol fails to drop, any space below it is filled with its own 1×1 instances .
Quantum Wilds
On any non-winning spins during the slot player spins, between 5 and 10 Quantum Wilds can be randomly added to the reels by the system. The wild symbol in the Gigatoonz slot game can also substitute for all symbols.
Quantumeter
Every time a player makes a winning combination, it counts as 1 charge on the Quantum Meter; The bigger the symbols, the more their charge cluster value will be on the Quantum Meter.
The meter in the game slot holds up to 100 charges and has the ability to activate 4 regulators when the four set levels are reached. Here are the first three parts:
Disintegration (25 charges): to remove all instances of 4 randomly selected symbols.
Metamorphosis (50 charges): to randomly transform all instances of one symbol into another to create more winning combinations.
Radiation (75 charges): to add 1-4 mega symbols and 2-5 Quantum Wilds in random positions to win.
The Gargantoonz modifier activates when a full 100 charges are collected, which happens in two steps:
Step 1: all mega symbols on the reels turn into mega Gargantoonz.
Step 2: Gigantoonz mega icons are split into 1×1 Gigantoonz, removed as usual.
Conclusion
The potential for winning the bet that can get a player 4,000x announced by Play'n Go seems to be lower compared to other slots jointly released by this provider. However, the features and attractive gameplay of Gigantoonz slot still attract many players on W88 to participate and receive many money prizes during play.
>> Related: Volatile Vikings 2 Dream Drop Slot