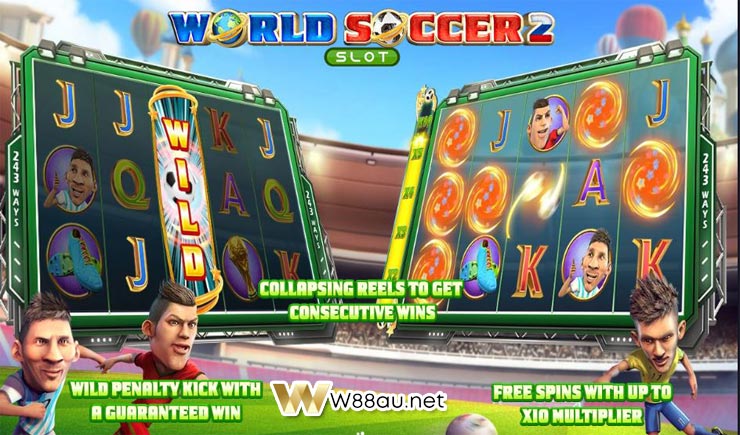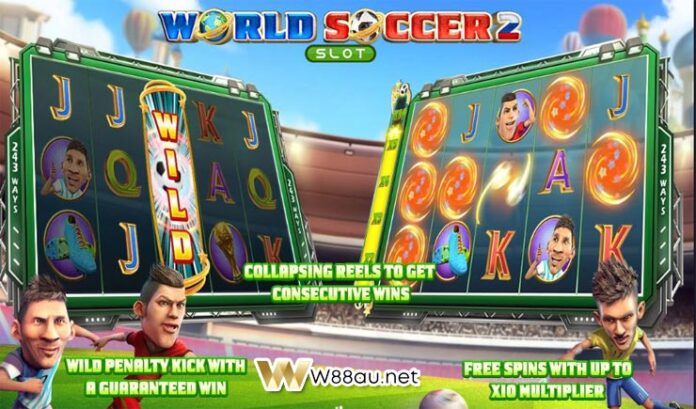 World Soccer 2 is a slot game from Gameplay Interactive, a partner of the prestigious W88 bookie. This game is inspired by the biggest football tournament on the planet – the World Cup. Let's learn how to play World Soccer 2 slot in the following tutorial.
The attraction of World Soccer 2 on W88 online bookie
World Soccer 2 Slot is an exploding game at the prestigious online W88. When participating in World Soccer 2 slot betting, players will participate in an epic football tournament in this online sports game.
The goal of the game is to get your favorite national team to the final round and bring home the big prize. It all depends on your spinning skills. The more goals you score and the better your chances of winning prizes.
Especially in this product game, there are unique features that ensure the bringer of many great chances of winning at W88.
Various Symbols in World Soccer 2 slot game
World Soccer 2 Slot offers players incredible additional bonuses. Along with 243 different ways to win huge prizes. Consists of:
Normal Symbols
The usual symbols at World Soccer 2 are images of Ronaldo, Messi, and Neymar, there are also symbols of the championship trophy, sports shoes and symbols of the cards A, K, Q, J. Each symbol will have separate payout rates.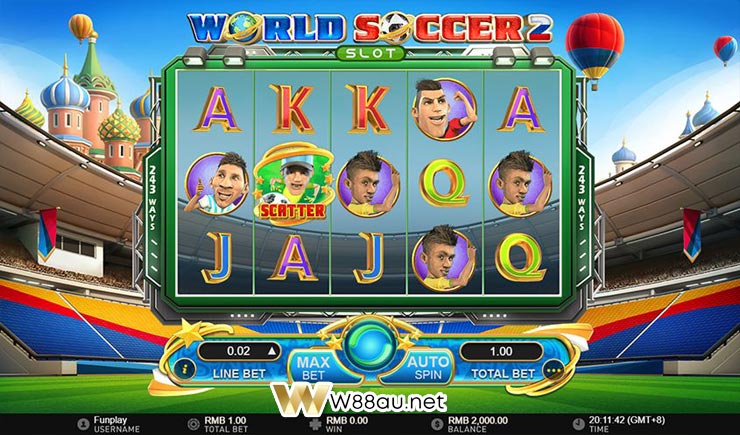 Wild Balls
The Wild symbol in this slot game is the Ball Symbol. When it appears on the reels, it substitutes for all symbols on the board except for the Scatter symbols.
These Wild Balls can appear on the third, fourth and fifth reels as a single wild symbol or as a stacked wild.
Wild Penalty Kick
In actual football games, free kicks can ruin or break a match. In World Soccer Slot 2, landing this symbol simply means that the reels will have Wilds stacked to automatically award credits.
Note that a random soccer player will appear on the screen and kick a ball towards reels 2, 3 or 4 and convert it to a wild.
This feature works for the entire game but is disabled during the free spins period.
Free Spins – Scatter
A special feature when playing World Soccer 2 is the free spins feature. Players can land 3, 4 or 5 scatter symbols anywhere on the board for 15, 20 or 25 free spins.
3 Scatter triggers 15 free spins.
4 Scatter triggers 20 free spins.
5 Scatter triggers 25 free spins.
Downrush Reels recording mode
This feature removes winning symbols from the reels. New and existing symbols will then drop down in sequence to complete the gaps of the reels.
Triggering Downrush reels during the free spins will give players a multiplier bonus that increases consecutive falls
Paytable in World Soccer Slot 2
With 5×3 reels and 243 paylines, the avid soccer slot players around the world are sure to feel the adrenaline rush with every hit of the reels.
With a max jackpot of up to $112,500, World Soccer Slot 2 claims the top honor for best sports-themed video slot.
Line: 243
Minimum bet: 0.02
Max bet: 4.5
Unknown Rewards: Wild Balls, Wild Penalty Kick, Free Spins and Downrush Reel Mode.
World Soccer 2 Slot betting tips
World Soccer 2 is a game based on chance. So if you find a way to win 99% of the game, it's impossible
But you can still increase your chances of winning. By making as many spins as possible. Because World Soccer 2 is a high volatility game. Therefore, the more spins you make in a row, the more likely you are to win big.
At the same time, you should choose and play with real money at a reputable bookie like W88. This will help you avoid the risk of losing money, not getting a refund after winning.
In particular, take advantage of the Downrush spin in the table to multiply the bonus amount.
Conclusion
Hopefully with the content shared above, you can easily participate in the World Soccer 2 game at the prestigious W88 online bookie. At the same time, have fun experiences and take home great prizes from this game.
If you have any questions or concerns about how to play World Soccer 2, you can leave a comment for timely answers.
See more: