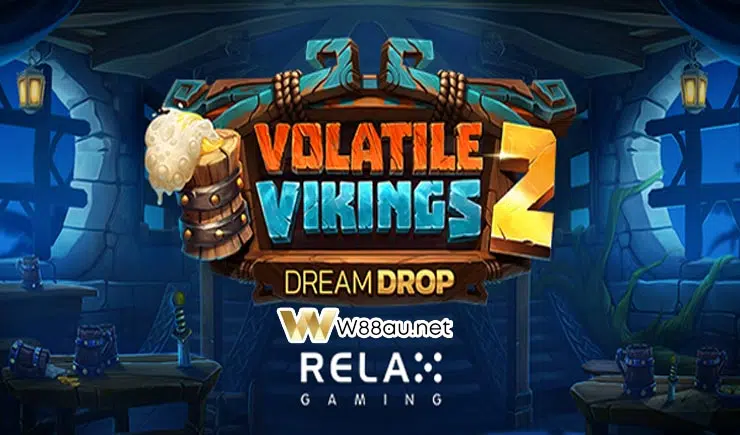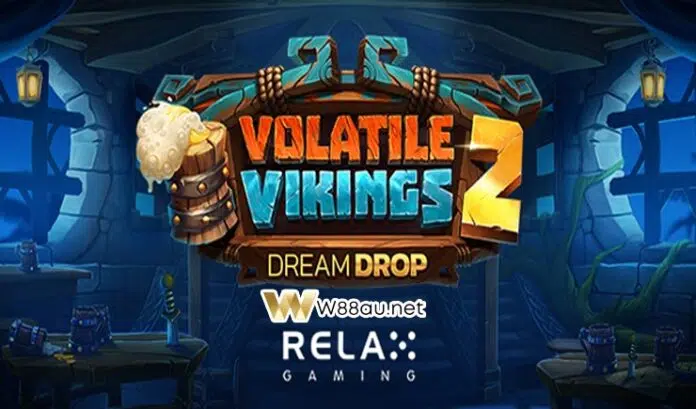 Volatile Vikings 2 Dream Drop online slot game is a Viking themed game from game provider Relax Gaming. This is an attractive slot on W88 app with a high variance of 6×5, which can give players a win up to 10,000 times their original bet. Let's learn about how to play and bonus features of Volatile Vikings 2 Dream Drop on the prestigious W88 online bookie in the following article.
Overview of Volatile Vikings 2 Dream Drop Slot on W88
Volatile Vikings 2 Dream Drop is a video slot developed and published by Relax Gaming which is a slot game online with 6 reels and 5 rows. A winning combination can be made by landing 8 or more of the same symbol on the reels, and thanks to their scatters, the symbols do not need to be in adjacent positions.
Players can enter the slot with a minimum bet of 0.10 credits, and once confident can join the game with a maximum bet of 100 units. Volatile Vikings 2 Dream Drop has a lower RTP of 94.80% and 12% of your bet is contributed to the game's Jackpot.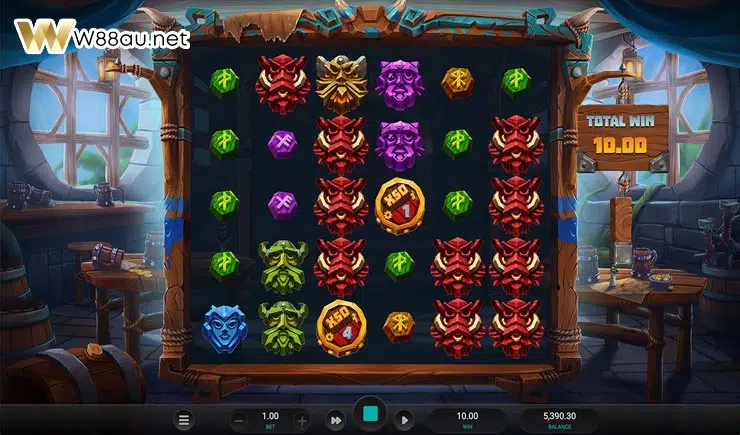 Volatile Vikings 2 Dream Drop has a winning spin frequency of 20.04% and has high volatility which makes it possible for players to win up to 10000X stake + progressive jackpot.
In this adrenaline-filled slot game adventure among mighty Vikings, players can increase their profits with a number of features such as Cascade, Multiplier Reveal, Free Spins and Dream Drop Bonus.
Features in Volatile Vikings 2 Dream Drop Slot
Cascade
When a player lands a winning combination, all symbols that were part of the win disappear from the reels. New symbols will then land to cover these empty positions and this continues as long as new wins are generated. This is an extremely attractive feature of this slot game.
Multiplier Reveal
During the slot, 2 Multiplier Reveal symbols will land on reels 3 and 4. These two symbols will come with a multiplier and a counter, whereby winning cascades will cause the counter to decrease. 1 unit. In the event that this counter reaches zero, its multiplier will be activated and simultaneously blow away adjacent symbols.
At the end of the current slot spin, the total multiplier will be collected and applied to the total cascading wins obtained by the player.
Free Spins
If you land 3 or more scatter symbols, the Volatile Vikings 2 Dream Drop free spins feature will be activated immediately. You will then get 6 free spins, and each additional scatter symbol you landed beyond the first 3 spins will be awarded 1 extra free spin.
Another hot feature is that players can also get 1 extra free spin for every scatter symbol you land in the bonus game. In this bonus game, the Reveal Multiplier feature is also incorporated, so players have the ability to build a really attractive winning multiplier at the end of the spin.
Dream Drop Bonus
This can be randomly triggered while the player spins the slot, and then a new skin will appear. During this feature, if a player is able to land DD symbols or crate symbols then DD symbols will be on the reels and here the feature will continue until one of the 5 jackpots has been won. be won.
To get Rapid, Midi, Maxi, Major or Mega Jackpot, you need to land 2, 3, 4, 5 or 6 DD symbols on the respective reels.
These jackpots are progressive and 12% of the bet size will always contribute to their growth. They start with the following values:
Rapid = €1
Midi = €5
Maxi = €100
Major = €25'000
Mega = €500'000
Conclusion
The gameplay of Volatile Vikings 2 Dream Drop Slot is really simple and the bonus features of this game are also very attractive. Therefore, join this slot game on W88 bookie now to experience the exciting game space and earn huge profits from the game's jackpot.
>> Related: Mad Cars Slot