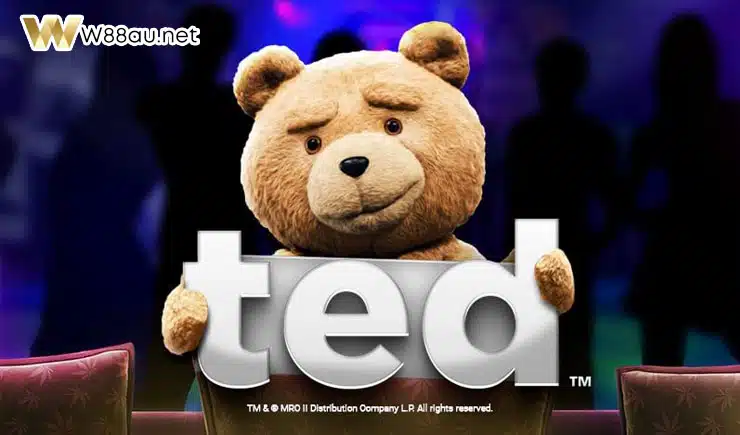 Blueprint Gaming has designed a slot game that allows you to enjoy the action on the reels with the coolest teddy bear, TED Slot. Currently this game is also available on W88 online bookie on the top trending and attracts a large number of players to participate in the slot. The following review of how to play and the payouts in TED slots will provide you with a wealth of information.
Overview of TED Slot on W88 bookie
When participating in the TED Slot from Blueprint Gaming, movie fans will be able to relive the exciting moments and funny stories through this 5-reel video slot. The reels are placed just above a couch where the main character has fallen asleep for the evening.
Blueprint Gaming has designed this slot game format using HTML5 to allow W88au players to participate in the slots in the browser of any mobile device such as phones and tablets.
Ted slot is also equipped with many special features to make it a pretty perfect slot game. This includes six Ted-controlled menu bar tools, wilds, five bonus spins and lots of free spins. Players who are new to W88 slots who want to try this slot game can find a free demo and join.
The RTP in the slot game is 95.8%, and this is a medium volatility slot. Thus the player has more chances of winning.
How to play TED Slot for beginners
The TED slot is designed with five reels, three rows and 20 fixed paylines. People on slots on W88 can participate in bets with very small amounts from €0.20 up to a maximum stake of up to €200 per spin. This is very appealing to both TED Slot newbies and experienced bettors alike.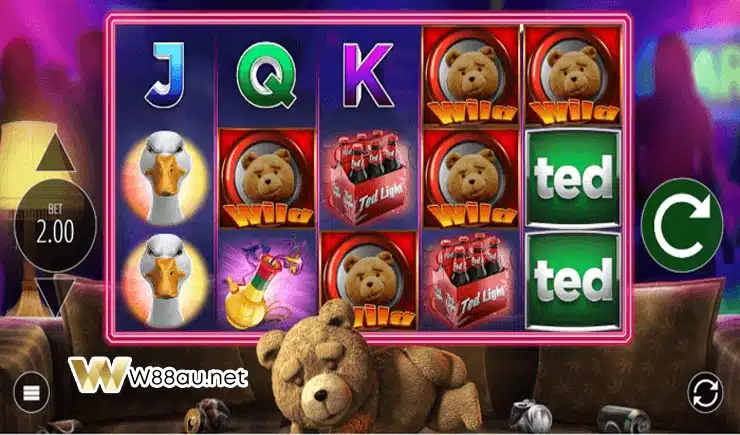 The TED slot has an Autoplay feature in the control bar at the bottom right of the grid. Players can set the desired bet level and the corresponding number of spins, then click Autoplay to be able to do other things. The modifiers that you can encounter while playing TED slot are Laser Gun Wilds, Psychedelic Super Spins, Beer Streak, Psychedelic Colossal Spin, TV Remote Streak, and Psychedelic Bonus Boost. Each feature has its own function that the player can choose to use.
>> See more: How to play slots online and win
Symbols of the TED slot and its payouts
The TED Slot will feature all eight regular symbols with different payouts. Of those eight icons, there are four that are reminiscent of the movie such as Tami Lynn, Duck, Ted Light and Hookah. The rest of the regular symbols include an Ace, a King, a Queen, and a Jack.
These regular symbols can bring a win between 4 and 300 times your initial bet. There are also two special symbols that give players a chance to win the biggest prize in the TED slot on the W88 online bookie.
The first special symbol is the Ted symbol, which is also the wild symbol in this slot game. If a player lands these five wild symbols along a payline that will bring a win of 500 times your stake on each line. This is the highest payout in the base game of the TED slot compared to the maximum win of a €250,000 jackpot.
The second special symbol is the Scatter Thunder Buddies. This symbol activates the bonus games in the Ted slot. Players will have the chance to spin one of five different mini-games, but only one gives you a chance at a 500x multiplier.
Other bonus features of TED slot
Bonus features in the TED slot include Wheel of Fortune, Bar Crawl Bonus, S-Mart Free Spins, Ted Free Spins, and Big Money Bonus. Each bonus feature will bring different large and small bonuses in order. Prizes can go up to 500x and give W88 players a chance to win a jackpot of up to €250,000.
Conclusion
With the review of the TED slot and its bonus features and payouts on the W88 online bookie, you are sure to feel more confident when you start playing this exciting slot game.
>> Related: Wealth Inn Slot Review: How to play and Bonus features