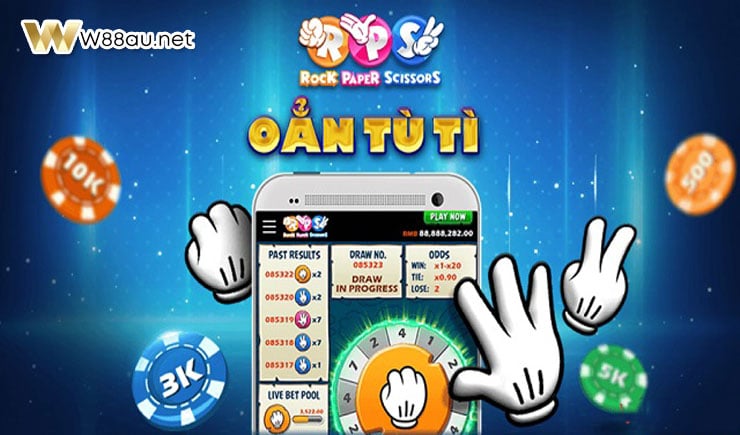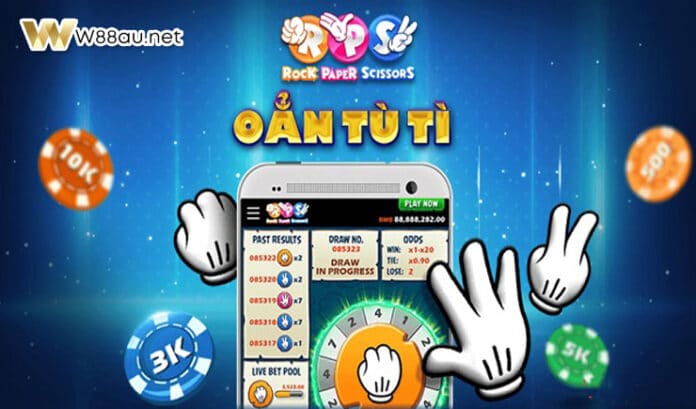 Rock Paper Scissors on W88 online bookie is one of the attractive, easy-to-play and easy-to-win entertainment. Although this game is very familiar to many people, when it is put on the electronic interface, many players wonder if it is reputable, trustworthy or fraudulent. Stay tuned to this article for more details.
Overview of Rock Paper Scissors on W88 online
In fact, the game Rock Paper Scissors W88 is no different from the traditional style that everyone has experienced in childhood. It is because of this simplicity, rusticity, familiarity that has attracted a large number of bettors to participate in betting.
This online game is not only for entertainment, but everyone can make real money extremely easily because everyone understands the rules of the game.
Rock Paper Scissors rules on W88 online bookie
Everyone knows the rules and how to play this childhood game. However, when this game is released on the W88 Casino Online website system, it will be divided into the following two types of play: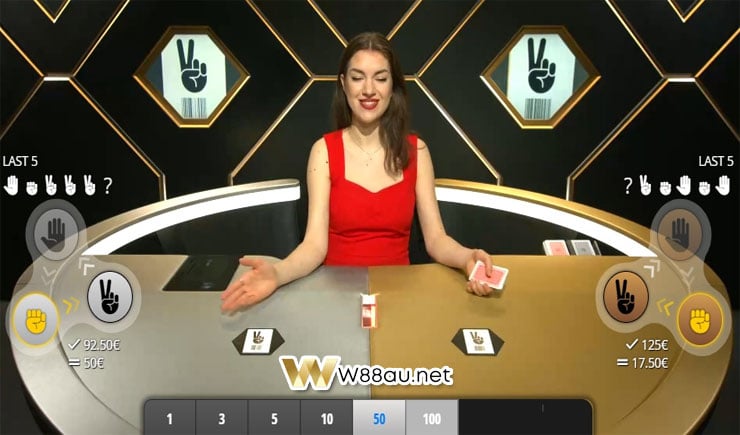 Traditional style
The traditional style of playing Rock, Paper, Scissor on W88 bookie is no different from the old way of playing. Also followed is Rock > Scissors > Paper > Rock. The rules of betting are extremely easy to understand and anyone can grasp in a split second. You just need to pay attention to a few things as follows:
If you win, you will receive a bonus equal to the bet level. The reward ratio will be 1 to 1.
In the event of a loss, the player will automatically lose the amount in that bet.
And when the player has a tie with the bookie, the bet will only be refunded 9/10 of the original bet.
Wheel of Fortune
In the game interface, you can click the button on the top left, next to the globe icon to change the type of rock-paper-scissors game. Just click on "Lucky" to change to lucky spin mode. At this time, the rules of the game are also very basic, with only a few differences: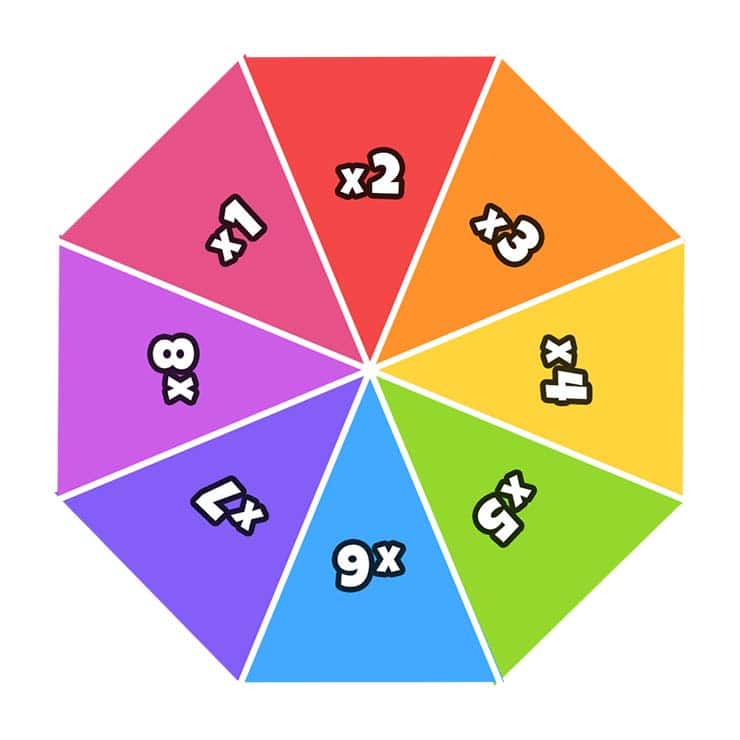 In case you win the bookie, the wheel will proceed to run one round, if it falls on the box 1, 2, 4, 6, 8,… to 20, that means the bet you placed for that round will be multiplied by that number.
For example, follow how to play Rock Paper Scissors for real money, the player wins the bookie and the bet is 500 points, the highest amount received will be 10,000 points. The ratio is up to 1 to 20.
And if you lose, then as usual, the bet will be lost.
And if the result is a tie, the bet amount will be returned to 8/10 of the original bet.
Tips for playing Rock Paper Scissors
Quick judgment and instant bets
Always remember, each round of Rock Paper Scissors online will only have 10 seconds. In such a short period of time, you need to quickly predict the outcome and bet immediately.
Know when to stop betting
An extremely important thing when playing online betting is knowing when to continue playing and stop. When in the first round, you bet and have a profit, just go ahead and win. However, when you lose even 1 or 2 rounds, it is a sign that you should stop.
Notes when playing Rock Paper Scissors
Always ensure that your W88 game account after successful registration must be linked to a bank account. Because the points from the game will be converted into real money transferred directly to your bank account.
In each round, when the bet is completed, W88 bookie will immediately collect that number of points. If you lose, the online casino does not have to deduct, and if you win, the amount you play will be refunded plus the bonus level as prescribed.
So according to the reviews of the players, online Rock Paper Scissors is an extremely interesting betting game on the W88 bookie.
Conclusion
Although this Rock Paper Scissors game is very familiar to many bettors, when it was transferred to play online, it was slightly improved. Hopefully, through this article, everyone has understood the rules, bonus rules and tips for playing Rock Paper Scissors online on W88 bookie.
>> Related: How to play Fishing War online