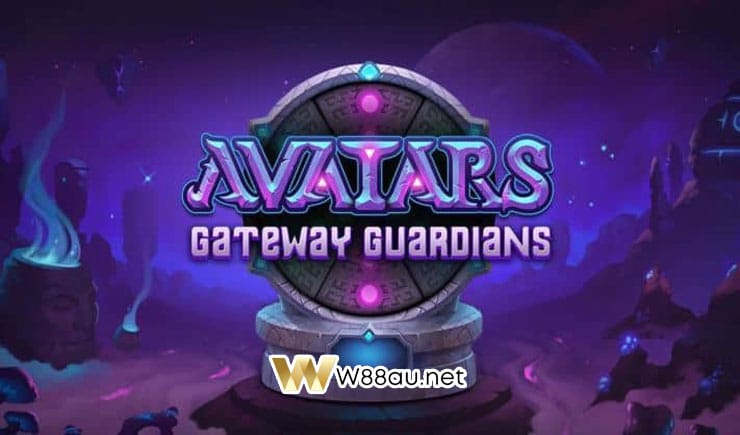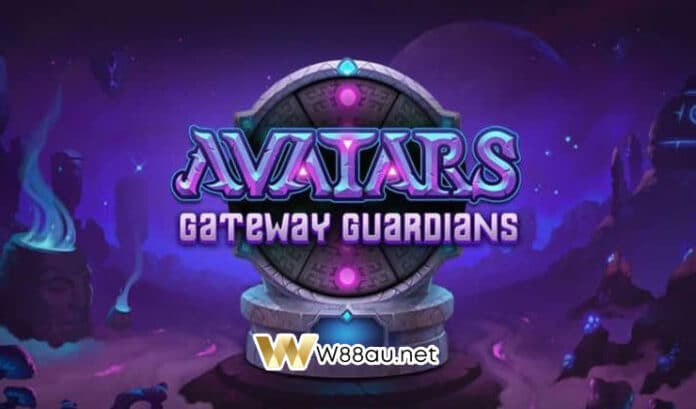 Game provider Yggdrasil continues to show their flair when offering many unique things in Avatars Gateway Guardians Slot. This slot has an RTP return rate of 96.3% and is a highly volatile slot. These statistics have partly revealed this is an attractive slot game. The review and guide to playing Avatars Gateway Guardians Slot below will help you confidently join this slot game when login W88 online bookie.
Overview of Avatars Gateway Guardians Slot on W88 online bookie
Avatars Gateway Guardians Slot is considered by gamers on W88 as a very special Video Slot because it is different from other slot games available on W88's slot game catalog.
Avatars Gateway Guardians is a slot game designed in the form of a circle with 6 and 8 slots divided into 3 parts (in the form of 3×6 or 3×8 slots).
When participating in playing Avatars Gateway Guardians slot, players will see a total of 7 regular symbols, each of which will also have 3 separate parts. Players will be paid if during that spin they match all of the symbols from these 3 separate parts. This is a special feature that helps this slot game attract a large number of slot lovers to participate because the precedent has never been such a unique slot casino game.
Avatars Gateway Guardians Sot Features
Hot spot feature
The Hot Spot gameplay is a special feature marked with a white light (in the base game you'll notice it at the top). W88 players win the Hot Spot game if they match a complete symbol in the white light section.
Now the win that the player will receive for the combined symbol is a multiplier. The multiplier will be calculated starting from 1 and will increase gradually to 1x, 2x, 3x, 4x, 5x, 10x or up to 20x. The multiplier will keep accumulating (up to 5x) until the player lands a high paying hand symbol (up to 101x). However, if there is a Free Spins symbol appearing in the Hot Spot with a multiplier, it does not apply.
Free Bonus Spins
The free spins bonus round is triggered when three or more Scatter symbols land anywhere on the wheel.
Eight free spins will be awarded and triggered on eight slots (instead of six in the base game mode) and a Hot Spot multiplier will be awarded depending on how many Scatter symbols slot you land in the Hot Spot section of the basic game mode as follows:
0 Scatter symbols at Hot Spot: 2 Hot Spot multipliers
1 Scatter symbol at Hot Spot: 4 Hot Spot multipliers
2 Scatter symbols in the Hot Spot section: 6 Hot Spot multipliers
3 Scatter symbols at Hot Spot: 8 Hot Spot multipliers
How to play Avatars Gateway Guardians Slot on W88 bookie
Step 1: Choose a coin value to place your bet.
Step 2: Press the Spin button to start the game.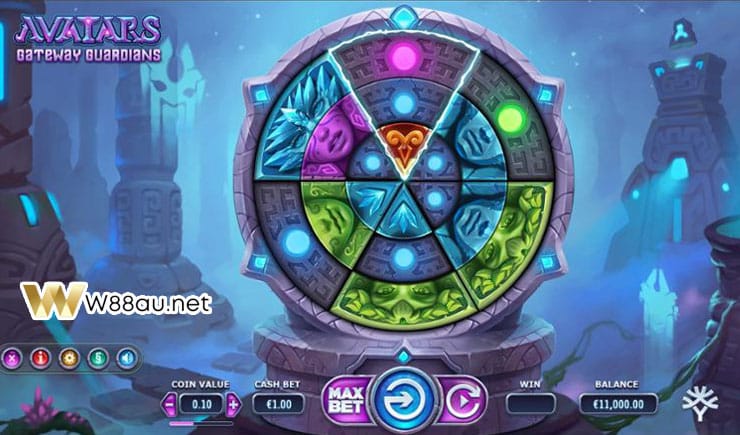 How to calculate winnings for payline
To calculate your total winnings, add all the payouts of the complete symbol together.
a section has a complete symbol (all 3 pieces line up), look for the coin win value in the Payout Table. You can find values for all symbols.
Free Spins symbols can be scattered and still award Free Spins.
Calculate your total winnings in your currency by multiplying your total winnings by your coin value.
Game panel
Coin Value – Change bet size by changing coin value.
Bet – The bet is always 10 coins per spin.
Max Bet – Set the coin value to the largest available. Pressing the button a second time returns the button to its original state.
Spin Button – Starts the game. While the reels are spinning, the spin button will change to Stop
Auto Spin – Players can play the game without pressing the spin button every time.
Wins – Displays the winnings for the current or last winning payout step.
Balance – Displays the player's account balance.
Conclusion
Overall, the Avatars Gateway Guardians Slot is unique, well designed, and offers medium to large win potential. If you are bored with standard reel sets that offer different numbers of paylines or payouts, this is an interesting alternative to playing slots on reputable W88 online bookie.
Related: Big Benji Bonanza Slot Review: How to play and Bonus features