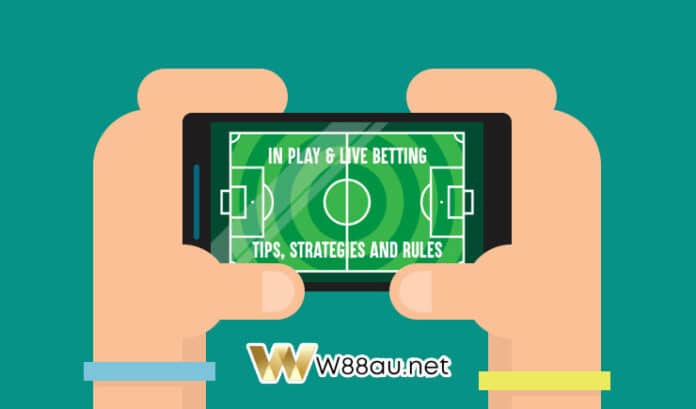 Until now, bettors had only one way to bet on football and other sports, which was pre-match bets. However that has changed with the emergence of online betting sites. It features new technology that allows the odds to be changed instantly – and allows for quick, one-click bets, called InPlay betting. Let's find out Inplay betting on W88au in the following article.
What is In-Play betting?
In-Play betting is a fairly new type of betting offered by some online sportsbooks like W88 that allows bettors to place new bets while a sporting event is happening.
In-play betting first appeared in the late 1990s when some bookmakers would place bets over the phone while a sporting event was in progress and has now grown into a popular online service in many countries.
The introduction of in-play betting allowed bookmakers to increase the number of markets available to bet on in sporting events, and participants could place bets based on various types of in-game activity. in matches.
For example, in football matches, bets can be placed on in-play bets including match result, first half score, number of goals scored in the first or second half of the match, number of yellow cards in the match and scorer.
How to bet on In-Play on W88?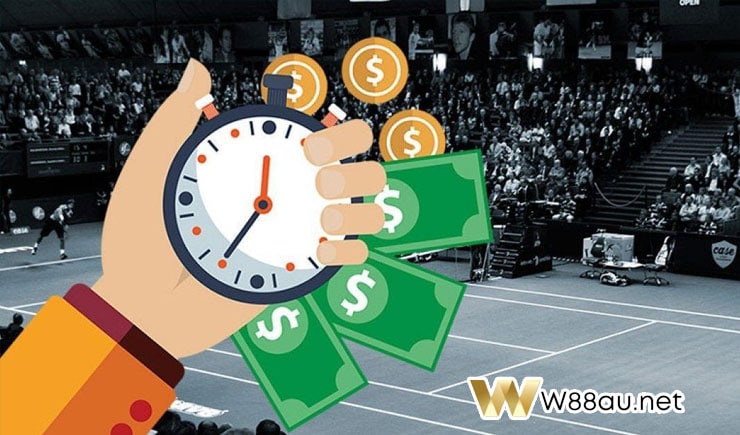 Step 1: Access In-play bets
While the match is in progress, visit W88, one of the largest football odds websites.
You will see a section dedicated to in-play, live or running betting.
In this section will be all the sports events that the bookmaker currently accepts bets on and the prices they are offering. You will find a wide range of different sports and bets to your liking while the match is in progress.
In a fast-moving sport like football, you'll see prices change rapidly to reflect the changing state of the game.
Step 2: Choose Your Choice
You might be watching a football game in which one team dominates. If you feel they will score the next goal, you will be able to place an in-play bet on that outcome.
Step 3: Place an in-play betting
You place your bet in the same way as the pre-match bet, click on the price, tap your bet amount and press the bet button.
But please note, you have to be quick. Bookmakers work very quickly to change the odds as players enter in-play bets, as everyone is watching the game closely, trying to predict what happens next.
Inplay betting tips from W88's experts
Choose the best time to bet In-Play
The simple answer is, as soon as you feel you have guessed the next outcome. As we said above, in-play odds change very quickly and if you spot something that suggests a team will win or score the next goal, chances are the bookie will notice too that and change the price accordingly.
Choose the right type of in-play betting
There are many types of in-play bets for players to choose from. You can bet on the end result, the next scorer, even getting a yellow card.
This goes for other sports as well. You can bet on the outcome of the NFL match, or for cricket you can bet on the number of runs of the player.
The development of in-play betting also leads to other features such as withdrawals at any time. When you win a bet, even if the match is not over, you can withdraw your money immediately.
Choose Handicap and Over/Under bets
As the match progresses over time, the handicap and over/under betting will gradually decrease if the match has no goals. With the nature of decreasing, players will choose the upper hand or the upper hand will wait for the opportunity to bet more money, but it is necessary to have initial analysis before the match takes place.
Follow betting tip when the match takes place, the player will choose the time to bet Inplay, and can choose to bet on the first half or the whole match. Bettors should pay attention to the high handicap bets to decide to bet on inplay betting or not.
Conclusion
Above is an explanation of what Inplay bets are, and tips for you to make better Inplay bets when participating in betting at games at the W88 Asia bookmaker.
To be able to bet on Inplay better, you should participate in betting, as well as spend a lot of time learning and analyzing the matches, and following sports news to be able to bet Inplay most effectively.
Read more: What is Parlay betting