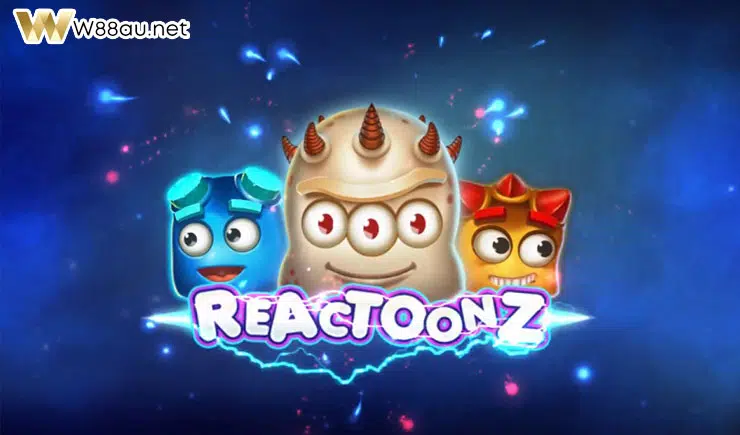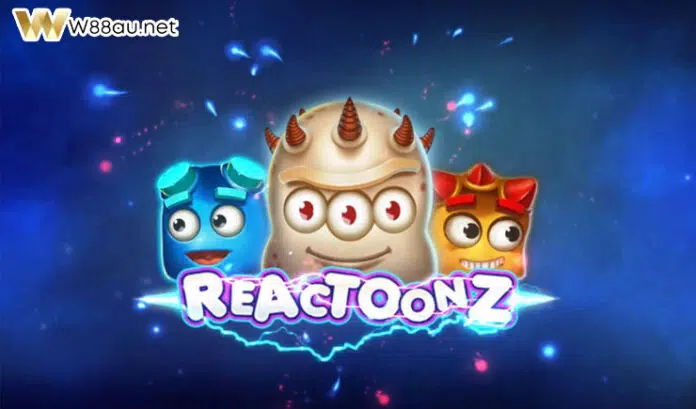 Reactoonz slot is an alien-themed W88 online slot, created by the famous game software developer Play'n GO. This slot game has a lot of attractive and interesting features. The Reactoonz slot game review below will get you ready to participate in this exciting slot game on the prestigious W88 bookie.
Overview of Reactoonz slot
The Reactoonz slot game is designed with 7×7, which is quite rare in today's slot games category. Reactoonz is designed by the vendor with a cascaded symbols mechanism, which means that the symbols drop down after generating a winning combination.
Reactoonz is a highly volatile slot game. This means that players will not often get wins, but when you are lucky to land on a payline, you can potentially get a large amount of money.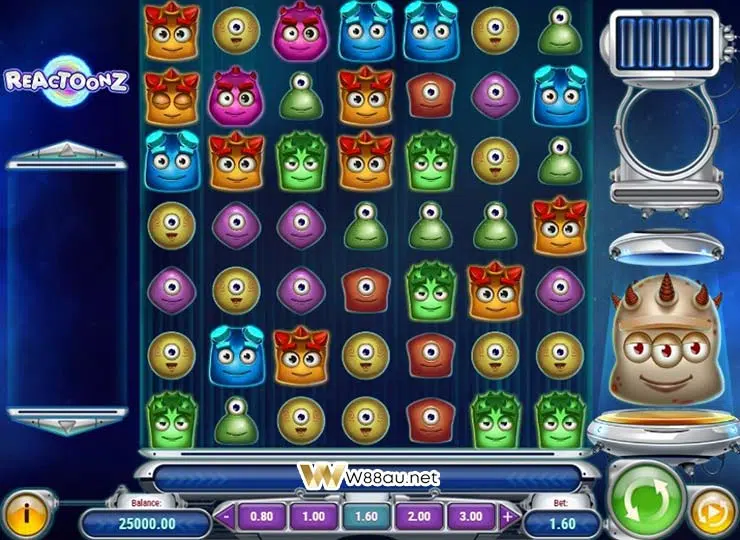 The Reactoonz slot game on W88 mobile has an RTP of over 96%, rated at an average RTP. The minimum bet that a player needs to place to participate is € 0.20, and when he is experienced enough and has a large amount of capital, players can participate in the slot with a maximum bet of up to 100 €. With this amount of bets, anyone can participate in the game.
The maximum payout a player can get when participating in the Reactoonz slot is x4,750 times the initial bet.
Attractive features in Reactoonz on W88
Quantum Leap Features
This feature Quantum Leap has a meter that is filled with every winning combination you get. When the watch is fully charged, one of four additional features will be activated, including:
Implosion: the slot will change 3 to 6 symbols into Wilds. Additionally, all nearby symbols will be destroyed, making space for more alien symbols to be dropped on the spinning grid.
Demotion: the one-eyed symbols will be destroyed and removed from the reels.
Alteration Feature: A Wild is split in the center reel and creates two diagonals. Then they will intersect and both bars will show matching symbols.
Incision Feature: one eyed symbol will be randomly selected and all instances of the selected symbol will turn into the same symbol. If there are no one eyed symbols on the grid, this feature will select any random symbol on the reels.
Gargantoon Features
The Gargantoon feature is activated when the watch is fully charged. This feature will initially create a 3×3 wild on the grid and place it in a random location. If there are no more cascades, it will reduce to a 2×2 wild, and eventually to a 1×1 wild.
Before each move, new symbols will drop down from the top to fill the grid. Other Quantum Features are activated if more floors cannot be obtained. The game round will continue as normal and it will allow the clock to tick to give more chances for more winning combinations.
Giantoonz Features
Gargantoon can randomly drop 4 to 8 wild symbols into the grid. If 4 adjacent matching symbols appear in a 2×2 square, it means the Giantoonz Feature is activated. All wins you appear in this round will be doubled.
Fluctuation feature
The Fluctuation feature is triggered when 1 random low value symbol is marked as an oscillator. When it is part of a winning combination, it leaves 2 wilds behind on the reels.
Payout table of Reactoonz Slot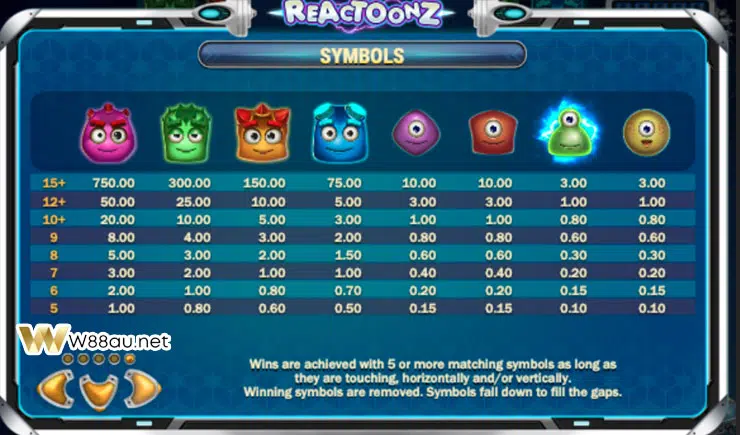 The payout levels for symbols in the slot game are described in detail as shown in the table below.
Before you play this slot for real money, make sure you go through the slot to learn the mechanics and features of the game. You can do this by trying out the free version of Reactoonz.
Conclusion
Once you understand how to play Play'n GO's Reactoonz slot on W88 online bookie, you will realize that it is not as complicated as an online slot game as it may seem at first. In the end, Reactoonz Slot is definitely one of the best Play'n GO slots you should get into playing today.
>> Related: How to play Gemix Slot