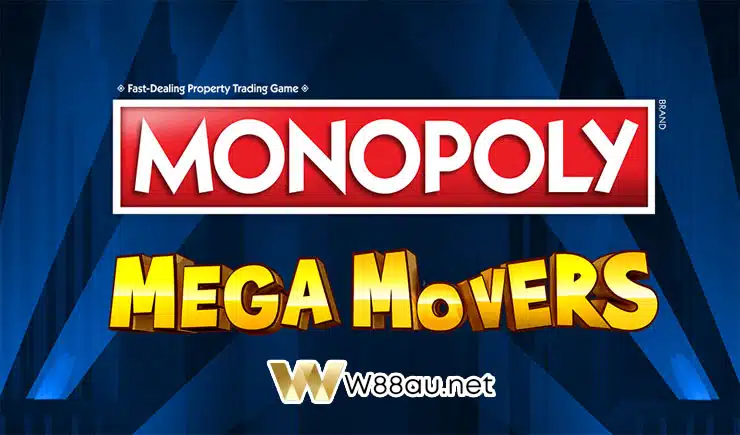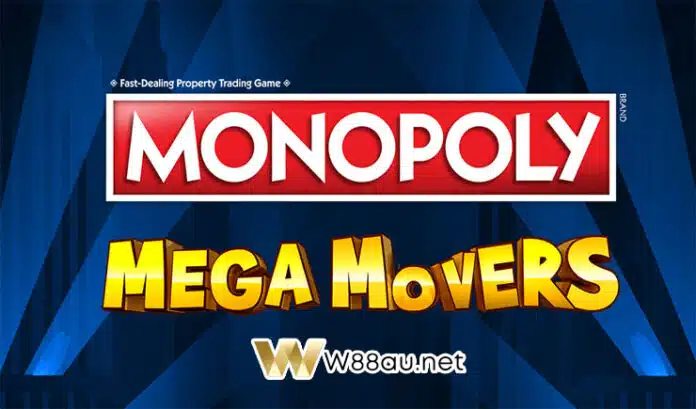 Monopoly Mega Movers is a great slot game based on the famous Monopoly board game currently available at W88. Monopoly Mega Movers was created by SG Gaming, which was originally founded as Scientific Gaming.
Monopoly Mega Movers may seem complex at first; However, once you get the hang of the settings and rules, it's a lot of fun and very easy to play. Learn more about how to play with Monopoly Mega Movers Slot symbols and payouts.
Overview of Monopoly Mega Movers Slot and how to play at W88
SG slots are featured in some of the world's most visited online casinos and are known for their exciting gameplay and fun concepts. Monopoly Mega Movers certainly meets expectations, with some great bonus features you may not have come across before. One of the most played board games in the world, Monopoly continues to increase in popularity. There are countless special editions available tailored to individual towns and cities around the world and tied to TV shows, movies, and more.
Any slot game with the Monopoly branding is sure to be an instant success due to the game's popularity; However, keeping players engaged and creating a truly great slot game is difficult. SG Gaming has achieved this with an engaging and unique game that will appeal to anyone, whether they are a fan of the board game Monopoly or not.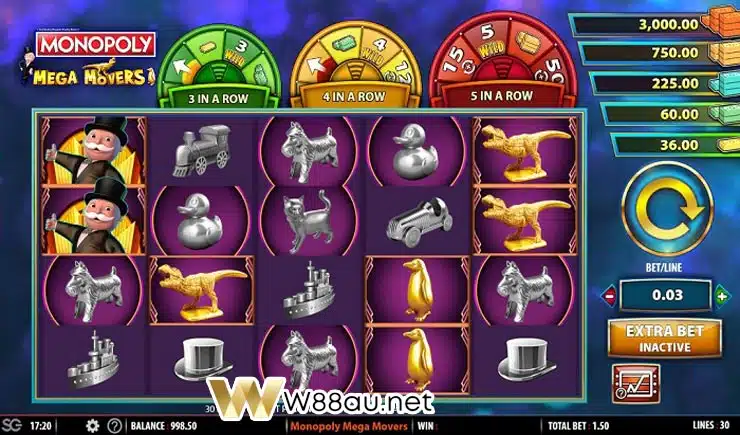 This is definitely an eye-catching game that will grab your attention from the moment you start it up. In addition to the base game reels, you will see three constantly spinning wheels at the top of the screen. The game has fun, fun music that can be a bit annoying if you play for long periods of time but is overall quite fun.
You will also notice this game on W88 has five different jackpots. This is not a progressive jackpot so the amount may not seem as amazing as on some other slots, but you can win some seriously impressive amounts on this slot game.
Symbols and payout rates in Monopoly Mega Movers Slot at W88
Most of the symbols and other design elements of this game are inspired by the standard version of the board game Monopoly such as the dog, hat, car and train.
Newer symbols that were recently introduced are also present, such as the cat. These standard symbols are represented in a light gray color, just like the pieces in the real-life version of the game.
You'll also encounter some special golden game symbols, including penguins and dinosaurs. Mr. Monopoly himself is also present, serving as the game's Wild symbol. This is easy to spot because the word 'wild' stands out.
Bonus Features Monopoly Mega Movers Slot at W88
You will see three wheels at the top of the five reels of the game. These wheels rotate continuously while the game is open. Each reel has a different name: there are three reels in a row, four reels in a row, and five reels in a row. If certain symbols appear on certain reels in any given spin, you will get a spin of one of the wheels.
The reels carry a variety of symbols that award different prizes or special features. You can win free spins, cash prizes (jackpots), and extra spins of the wheel.
Here are the various things you can win through these spinning wheels:
Upgrade
This upgrades the current reel to the next reel; For example, if you are playing on reel three, you will receive a spin of reel four if you land this symbol. If you are on reel number four, you will get to spin on reel number five.
Free Spins
There can be different numbers of free spins, with the number on the reels telling you straight away how many spins you will get. You can win extra free spins during any free spins.
Jackpot Prize
There are five jackpots, and the size of each is determined by the size of your bet on the base spin. Special awards are mini, minor, major, mega and grand. If you adjust your total bet during the base spin, you will see that the size of each jackpot will change.
The third spin can only award minor and mini jackpots, the fourth spin can only award mini and minor jackpots. And the yearly spin can only award major, mega and grand jackpots.
Conclusion
You can play Monopoly Mega Movers for free at W88. They have hundreds of the world's top slot games from the biggest developers, and remember that any spin can help you hit the jackpot on this game.