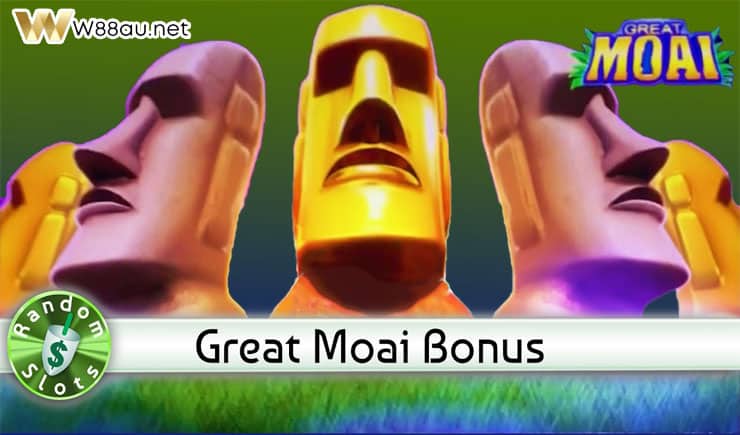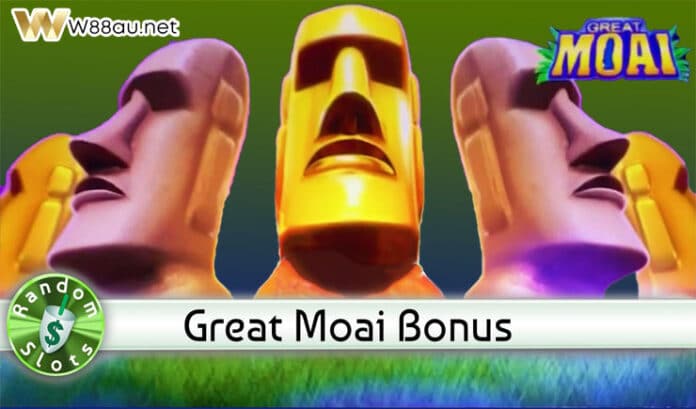 The main theme of Great Moai Slot is Polynesian culture, and the slot game gives a vivid impression of the high quality gameplay of this game on Fun88.com bookie. The review of the gameplay, symbols and RTP in the Great Mai slot below will give you full information.
Overview of Great Moai Slot
Game publisher Konami offers players a slot game that allows them to experience the atmosphere of a tropical island. Great Moai is a slot game designed with 5 reels and 30 standard paylines like other slots in the trending category of Game Slots.
Game developer Konami has taken Polynesian culture as the theme for this slot, making for an interesting change from the numerous Chinese, Egyptian and US themed slot machines our Fun88 review team has seen.
Moai is defined as the living face of the deified ancestors of the inhabitants of Easter Island. They are believed to have been carved by the Rapa Nui civilization sometime during the 13th and 15th centuries.
In the Great Moai slot, these impressive structures contribute to 96.1 RTP. If you bet total is 100$, you will get 96.1$ respectively according to RTP. This is the current average RTP on Fun88 bookie.
Standard gameplay of Great Moai Slot
Great Moai is a line-based slot machine, which means you win by landing winning combinations on paylines from left to right on the reels. You also win the bonus trigger via the scatter prize by landing 3, 4 or 5 bonus symbols.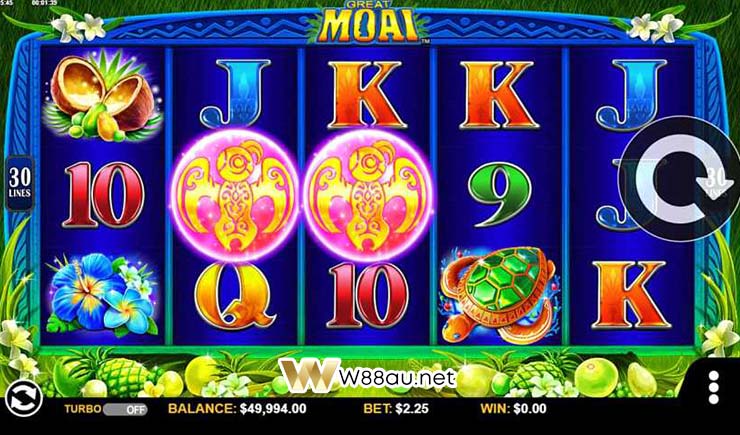 As with many Konami slot machines, the 5-reel hits can pay out pretty well and the bonus feature greatly improves your odds for that to happen. One thing to keep in mind, though, is that your total bet includes a provision for "Extras" which probably means you're essentially paying for your bonus feature.
For example, if you are playing 10 lines and betting one credit per line, your total bet will be 15 credits: 1 credit per line and 5 for your Extras.
Regular symbols in Great Mai slot
The symbols will have different payouts, Fun88 bookie players can check in the payouts table by clicking on the game menu to see the details.
High paying symbols include:
Easter Island Heads
Polynesian flowers, possibly Porterweed
Jeweled Turtles
Maori Man in a Headdress
Mythical Bird Drawings
Traditional Mask
Coconuts
The low paying symbols are the cards A, K, Q, J, 10, and 9.
Bonus Features in Great Moai Slot
Like many other Konami titles, Great Moai also features an "Action Stacked Symbols" feature, meaning that before each spin, certain reel positions are randomly converted to the same symbol, giving you there is a better chance to "Fill the Screen" for that symbol which can be anything but a Wild or Bonus symbol.
The bonus is activated by landing 3, 4 or 5 scattered bonus symbols for 8, 12 or 20 free games respectively. In the bonus, the Wild Feature can happen more often, although to be honest, there are no guarantees. That said, I like to think you will get this feature at least once during your free spins.
During the Wild Feature, which can happen before or after a spin, you'll get a fun animation of the first Moai figurines randomly landing on the top screen, some of which may be yellow. They jump around and jump over your reels and eventually, they stop jumping and where they land, determining which reel transforms to go completely wild.
Roll the Golden Moai twice as many times! In the end, it's just a fun way to randomly award some completely wild reels!
Conclusion
According to the team of Fun88.com bookie, Great Mai slot is a game with a special and different theme compared to other casinos slot games currently available on the market; thereby giving players a new and exciting experience along with premium bonuses.