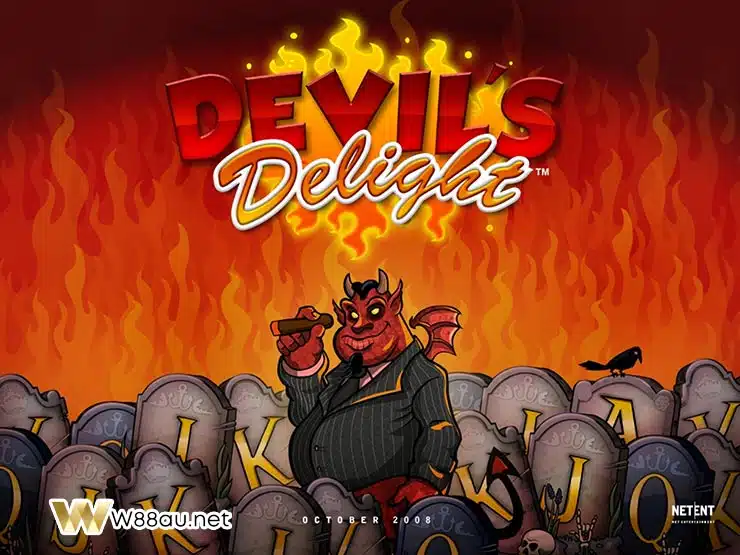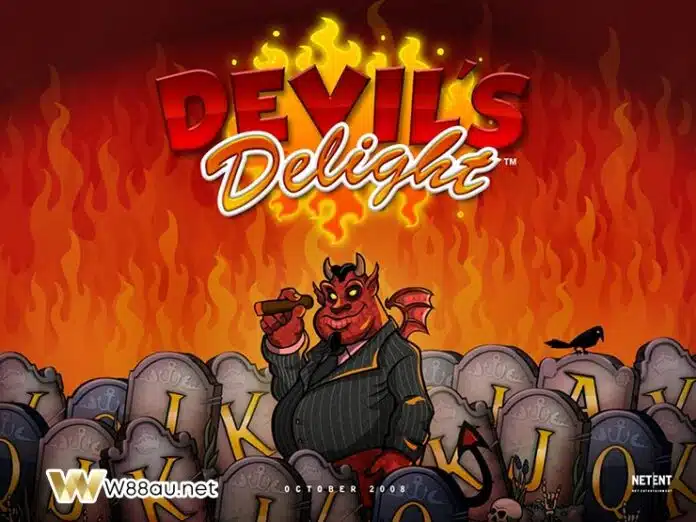 Devil's Delight is a slot with a number of extras including the Soul Reaper Bonus feature – where you can win up to 500x your bet. There is also a Free Spins feature where you can re-trigger more free spins and a multiplier of up to 5x! This is a medium/high variance game at W88 Casino that can reward you with your bet up to 1,000x in 1 spin.
Overview of Devil's Delight Slot

In Devil's Delight Slot, the Devil welcomes you to hell in this absolutely amazing 5-reel, 20-payline video game created by Net Entertainment. The theme is based on some of the deadly sins and death is ever present in this satirical game where you need to help the grim reaper collect souls in different bonus features to get rewarded by W88.
The rewards and features in Devil's Delight Slot will make you greedy and probably excited. The features are varied, scatter symbols, expanding wilds, free spins bonus, soul collecting bonus and the Sinful Spins feature.
How to play Devil's Delight Slot
Before spinning the reels, you will be able to hear some spooky, creepy sounds, as if the devil himself is going to pounce on you at any moment. Then, whenever you press the spin button, you will hear a strange melody playing and the victory will be announced with the triumphant sound of a horn. In this case, you will see that everything in this game comes together nicely.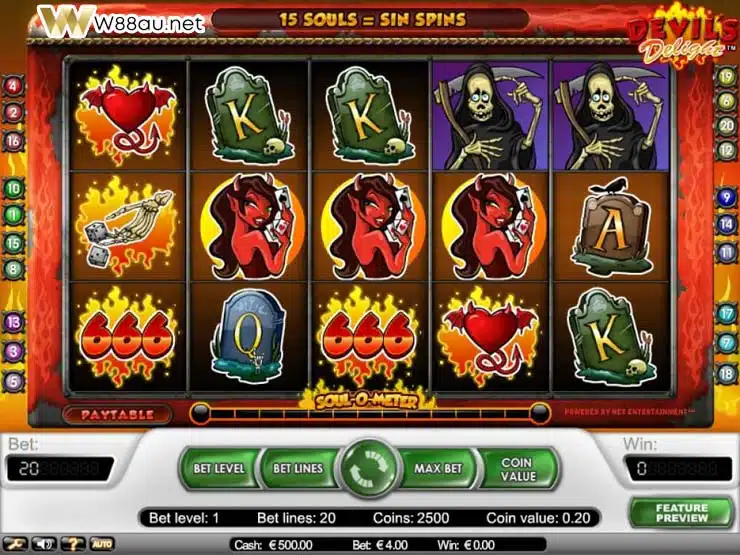 You can play from as little as 20p a spin all the way up to £100 a spin. The game has medium to high variation. NetEnt Slot has integrated a total of 20 separate pay lines into Devil's Delight. These can be adjusted if you wish to customize the active paylines, and this is done with the 'Line bet' button.
There is also the possibility to change the bet you place per spin. The coin value is the first thing you can change, and it can be switched between a minimum of €0.01 and a maximum of €0.50 per line. Meanwhile, players can also change the 'Bet Level' around, which ranges from one to 10. If you have all of these at the maximum, you can place an overall bet of €100 every round.
Symbols and payout rates in Devil's Delight Slot at W88
Slot game with various hellish symbols, such as the grim reaper, the purple devil grilling sausages in hellfire. Additionally, you will find a gremlin-like creature bathing in a cauldron of red liquid, a pentagram carved into floor tiles, demons wearing pinstriped suits and smoking cigars, a female demon holding a deck of cards, and a little devil with a miniature trident.
Next to the tombstones bear the letters A, K and Q, as well as the '666' symbol, a red heart with devil wings and tail, and a skeleton hand rolling dice.
Bonus Features Devil's Delight Slot at W88
Soul Reaper
Three or more soul scatter symbols will trigger the Soul Reaper Bonus feature – they can only appear anywhere on reels 3, 4 and 5. During the soul gathering bonus you have the Faces represent the five sins (gluttony, lust, sloth, pride and wrath) on the left side of the screen. You have to match the sin to the characters on screen.
If you get a match the person dies comically/horribly but you get a bonus and collect their souls in the soul meter at the bottom of the screen. Wrong fighting causes you to lose one sin with the possibility of receiving 5 souls. You can win up to 500 times your bet if you're lucky here.
Spin of Sin feature
The Spin of Sin feature is triggered when you have collected 15 souls in the soul meter – don't worry, soul collecting isn't too difficult as souls are 'held' for 48 hours from the last Your final spin. During this feature you get 10 free spins with seven deadly sin symbols as well as an expanding wild symbol that appears on the 3 middle reels when forming part of a winning combination.
The amount of coins accumulated in the Sin Spins feature is based on the average bet you place when you get those 15 souls, so the more coins you bet before the Sin Spins, the more coins you'll win In the cycle of sin.
Free Spins
Activated when 3 or more pentagrams are received in any position. To find the number of free spins and multipliers, you need to click on one of the pentagrams on the screen. The number of free spins and multipliers are awarded randomly – free spins range from 7 to 17, and the multiplier can reach up to 5x your winnings.
During this feature, you can get additional spins when 2 five-pointed stars appear on the reels. Other bonuses can also be triggered during this feature, but the multiplier will only apply to the original number of free spins you are awarded. You will see this similar to the Blood Suckers slot game also offered by NetEnt.
Conclusion
The devil is certainly ready to meet you right now, that's the idea behind the NetEnt online video slot game called Devil's Delight available on the W88 platform. There are a lot of tombstones rising from the bottom of the screen, while flames dance in the background. So, if you can stand the heat, you will be able to play this game at W88 without any problem.