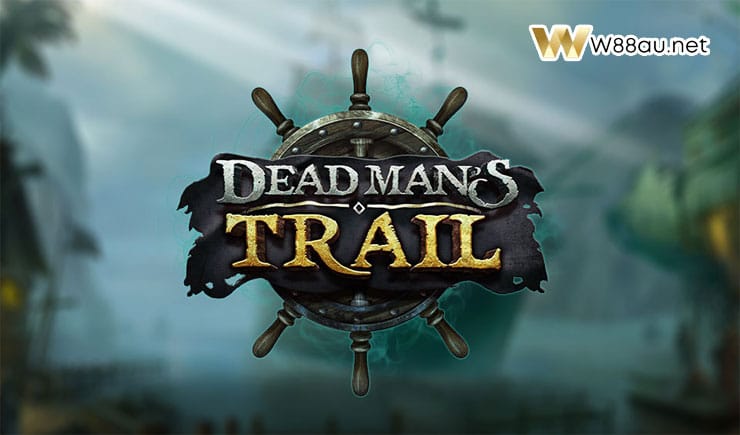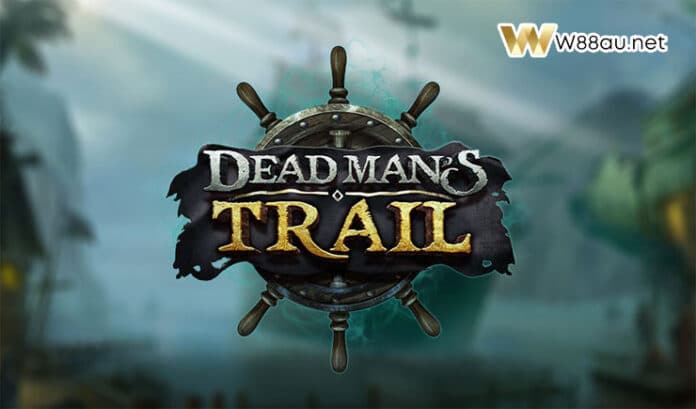 Dead Man's Trail Slot is currently on the list of the most popular games on W88 online bookie. The following guide will help W88 bettors better understand how to play as well as the attractive features that Dead Man's Trail Slot brings.
Dead Man's Trail Slot Overview on W88 online bookie
In the brand-new casino slot Dead Man's Trail from Relax Gaming Slots Free, we get to participate in thrilling pirates looking for riches experiences. According to a legend, those who are bold enough to follow a dead man's trail can win enormous sums of money, and that is exactly what we intend to do.
But nothing is given to you on a silver platter; instead, you must play a game with a high level of volatility in which you could ultimately win 50,000 times your initial wager.
There are 40 chances to win on the 5 reels, 4 rows, and Dead Man's Trail video slot from Relax Gaming on W88. Both a 0.10 minimum bet and a 20 maximum stake are available.
The RTP of the game is 96.29% by default on W88 online bookie, and it rises to 98.00% if you use the Bonus Buy function. This slot machine boasts a 19.15% hit rate when you spin the reels, and a high volatility setting can result in payouts of up to 50,000 times your stake.
Symbols and payouts of Dead Man's Trail Slot
J, Q, K, and A are among the symbols that offer smaller payouts. The payout is 3X the wager if you get 5 of the same kind of symbol.
With backgrounds in blue, green, orange, and red, the four different pirates that make up the higher earning symbols are displayed. When you get five of a kind, the payout ranges from 5 to 30 times your original wager.
The game's scatter symbol is the pirate ship, and its wild symbol is a golden W that awards 60X if you land 5 of these.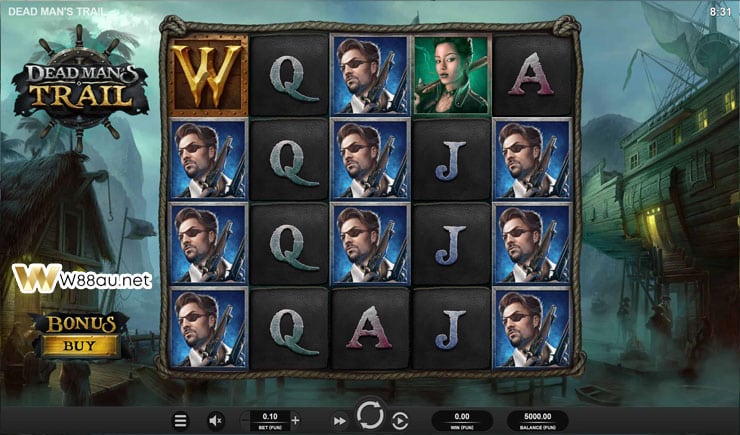 Special features in Dead Man's Trail Slot
Two bonuses are included with Dead Man's Trail. The first is a Coin feature that occasionally appears in the regular game, and the second is the Dead Man's Trail Bonus, which can either be activated naturally or purchased.
A simple add-on that gives the fundamental game some more diversity is the Coin function. Every reel has a special coin symbol that shows the bet multiplier value. The total value of all the present coins is paid out when they land on at least three distinct reels at once.
The Dead Man's Trail Bonus is activated by landing three or more bonus symbols. The bonus game is played on a map that is covered with a trail that the player's pawn moves around once the reels have been cleared.
Every turn, a random number between 1 and 9 is disclosed, and the player must take that many steps to complete the trail. Depending on the sort of tile you land on, an action is triggered. The tile transforms into an End Tile after landing on a Normal Tile or Mystery Chest.
Normal Tiles show the prize amount that has been earned. End tiles with a skull and crossbones are when the feature concludes and the total accumulated win is shown. One of 11 unique actions is triggered by the chest tile.
Scout: Scout increases a random Normal Tile by 100 to 1,000.
One-Eye: increases a regular tile's value by x2-x5, repeats 2-4 times.
Commander: increases all regular tiles by +3 to +5.
Collector: gathers the overall win after adding together the values of all regular tiles.
Collect & Command: Increases the value of each normal tile as well as the overall win by adding the total value of all the normal tiles.
Reset: swaps out all of the End Tiles for Normal Tiles.
Super Reset: Temporary Mystery Chests are used in place of all End Tiles.
Coin Win: A 25x to 50x random coin win is added to the overall win.
Consistent Scout: performs similar tasks as Scout but takes action after each turn.
Persistent One-Eye: functions similarly to One-Eye but takes action at the end of each turn.
Persistent Commander performs similar operations to Commander but takes action after each turn.
Conclusion
It can be seen that Relax Gaming's slot games are becoming more and more interesting and bring players of W88 online bookie many good experiences. Join Dead Man's Trail Slot now to experience.
Read more: Money Train 3 Slot: Review, Features and How to play