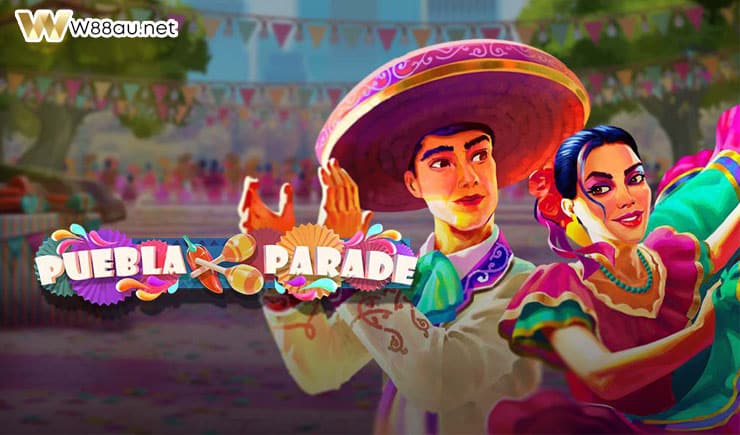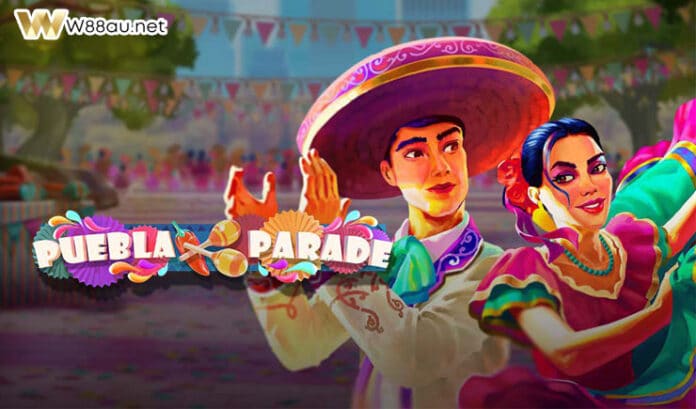 Puebla Parade is an online slot game released by Play'N Go provider. The game is set in the Puebla parade in the framework of the Cinco de Mayo holiday. The game with brilliant images, bustling sounds (can only appear in Mexican carnival culture), is very suitable for entertainment or relieves pressure from life. Read our review of how to play Puebla Parade slot on W88 bookie with bonus and payout features.
Overview of Puebla Parade slot
Puebla Parade slot game is played on a 5-reel, 4-row design and has 421 paylines in play. Winning combinations in the slot are formed when the player lands between three and five symbols on a payline, starting from the left side of the grid.
Volatile (7 out of 10), Puebla Parade is playable on any device. Players have the option of betting from 5 p/c to £100 per spin. If lucky to get the highest win, the player has a chance to receive 5,000x the total bet amount when participating in the slot.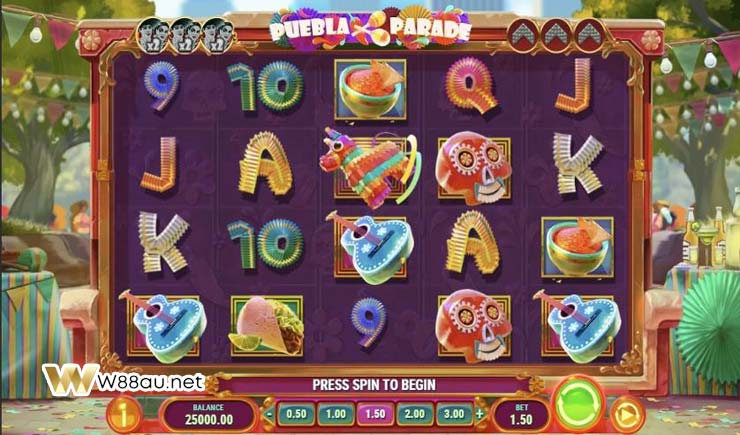 The function buttons of this slot game are clearly displayed on the screen. Players can tap the info button at the bottom left of the screen to check the RTP. This slot's RTP peaks at 96.2%, but can be configured at 84.2%, depending on the game market (commonly used in other countries outside the UK).
Currently, there are not many Mexican-themed slots like Puebla Parade slot on W88 gambling site, that's why this slot game, even though it has just been released, has received a lot of love from many slot game players. all around the world.
Special features in Puebla Parade slot
Puebla Parade has 20 paylines with 2 WILDS symbols, 6 rounds of RE-SPINS and 8 rounds of FREE-SPINS.
Wild Symbols
WILDS can replace all symbols. WILDS is a fixed and moving symbol in RE-SPINS and FREE-SPINS. Puebla parades with 2 WILD symbols: Señorita Wild and Senor Wild will trigger RE-SPINS and combine to open the reels.
Re-spin
One Señorita WILD and one Señor WILD will activate the initial 2 RE-SPINS. The RE-SPIN counter will reset to 2 if another WILD is hit.
Señorita and Señor WILD will attempt to create Pareja WILDS in RE-SPINS. When generated, Pareja WILD takes the win multiplier x 2 and expands the height of all reels by 1 symbol, with a maximum of 7 symbols.
Free Spins
Up to 3 Pareja WILDS can be created in RE-SPINS, and when all are created, FREE SPINS will activate after all RE-SPINS are completed. Pareja WILD win multiplier changed to x 3 in FREE SPINS.
8 FREE SPINS to be played with all Pareja WILDS moving around.
Symbols of the game and how to pay out
Game publisher Play'n GO Slot has designed colorful symbols on the paytable, including 11 regular paying symbols, two wilds, but no scatters.
All wins pay from left to right. Winning combinations start with the leftmost reels. Only the highest winnings of each selected line are paid.
Payline wins are rewarded for the maximum number of symbols on a consecutive payline. Winnings of interconnected paylines will be calculated as the sum of the single paylines.
Regular symbols are represented by cards 9 to A with the same payout and equal to 0.6 times the player's bet for a single five-of-a-kind win. The premium symbols in the Puebla Parade slot on W88 include chips 'n dip, tacos, guitars, skulls, and piñatas, where a winning line of five will give the winner 0.8x the value. up to 4 times the original bet.
Conclusion
Above is a review of the basic information of Puebla Parade Slot on W88 along with bonus features and special features. This is one of the new slot games released in 2022 and quickly ranked in the top search. So join now to experience and win.
>> Related: Tombstone RIP Slot