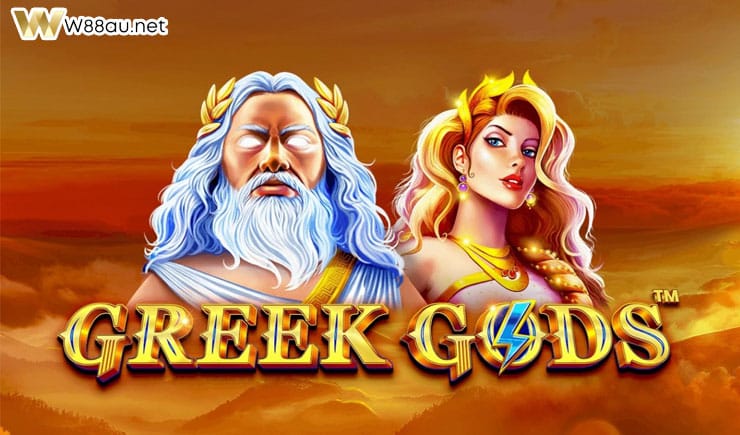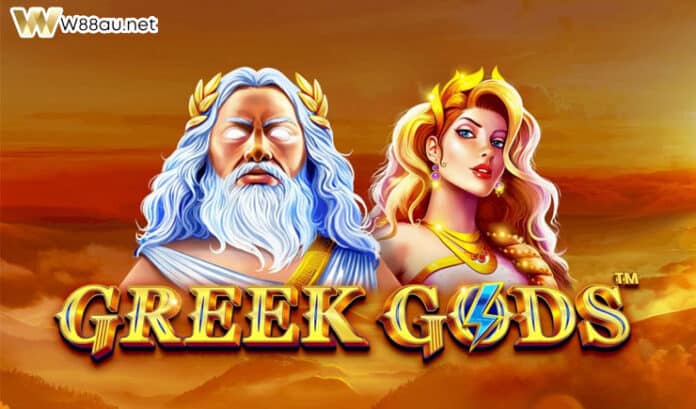 Greek Gods Slot is the most popular game today at all reputable online casinos. The game offers an interesting feel that matches the mythological theme inspired by the ancient Greek Zeus. Learn more about the Greek Gods slot gameplay and payouts in the following W88 casino review of W88au.
Overview of Greek Gods Slot on W88 bookie
Greek Gods Slot is a new game released recently by online game publisher Pragmatic Play. The main theme of this game is Greek mythology, giving players the most engaging and exciting experience.
The reels are placed in the middle of the ancient Greek temple and you can see Mount Olympus where the god of Lightning resides. The reels are inspired by the ancient gods Zeus – God of lightning, thunder and justice.
The RTP of this play slot games is said by Pragmatic Play to be at 96.5%, which is also a good RTP for current slot game players. Volatility falls on Medium (3.5/5), meaning that W88 players also often have a chance to win and the bonus will also be attractive.
Greek Gods is designed in the form of 5 reels, 3 rows. In it, there are 243 ways for players to combine into winning combinations, also known as paylines. In addition, special symbols such as Wild, Scatter, and Lucky wheel also randomly appear in the game. This game has a max payout of up to x1000 for lucky players.
The minimum in-game bet is 0.25 credits and the maximum is up to 125 credits. It can be seen that Greek Gods Slot focuses on a wide range of players, from new slot players to professional slot players.
Symbols and payouts in Greek Gods Slot
Greek Gods slot has a total of 11 symbols in the game. In it, there are 5 symbols with the lowest value, which are 10, J, Q, K and A. The larger values are the symbols in Golden cup, Harp and 2 Gods. Next is the goddess Hera (god of marriage, family and fertility). Finally, the highest is the king of the Greek gods – Zeus.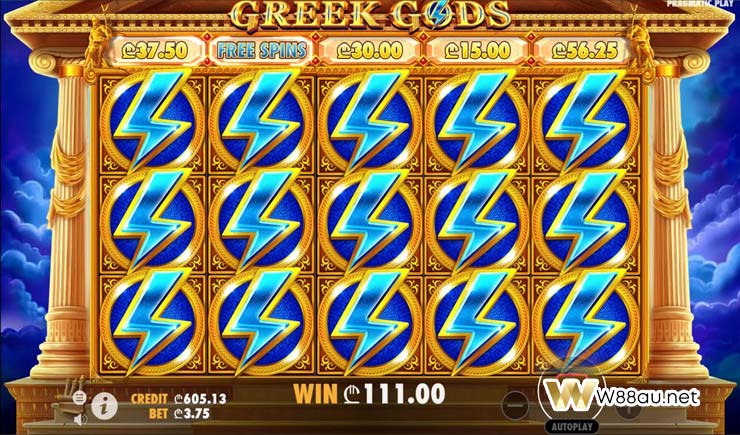 Zeus is the most valuable symbol in the game. If more than 3,4,5 combinations land that can bring 6X the stake. In addition, some symbols that replace other symbols are Wild, which can appear on the 5th reel.
Player wins are counted from left to right when they land on 3 consecutively matched random symbols on the payline.
Special features in Greek Gods Slot
Random bonus feature
Players can see random appearances on reels 3, 4 and 5 when participating in the game. Scatter symbols will appear in full on any spin. Corresponding to the following possible cases:
Money prize: Is a form of winning bets with bets up to X50 times.
Bonus: Triggers the Greek Gods game (Wheel of Fortune bonus)
Free spins: trigger the free spins feature
Wheel of Fortune Bonus
If W88 players activate the lucky spin feature, they will have the opportunity to receive a random bonus from 10 to 1000 times their stake. A player can win the lucky spin multiple times on the same reel if the symbols appear more than 3 times.
Free Spins
This feature can be activated by the player when 5 scatters appear on the reels. Players will receive 3 free spins + 1 free spin for subsequent Scatter symbols.
As such, you can start playing 5 free spins once you get 5 scatters. In addition, you get 8 more free spins from other random prizes.
Players are entitled to a maximum of 36 free spins. Wherein, this feature can trigger up to 40 free spins on the same 1 free spin. In particular, in this game there is no limit to the number of free spins activated.
Conclusion
Through these shares, you can learn how to play Greek Gods slot. Greek Gods slot is the HOTTEST game at W88 today, so players should carefully refer to the rules, gameplay and best tips to receive great rewards that can be multiplied hundreds of times the bet.