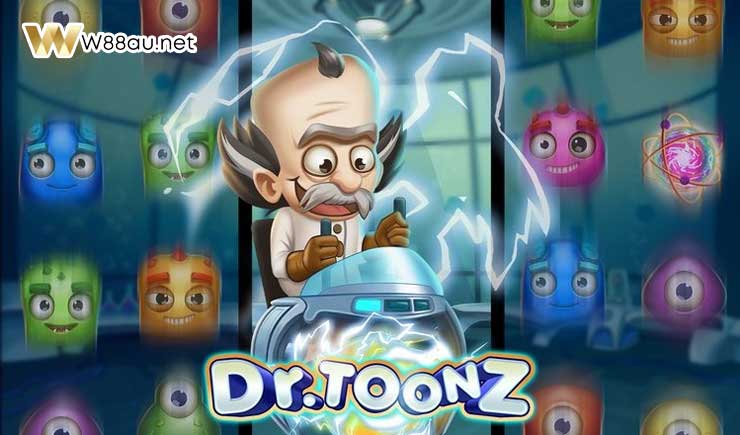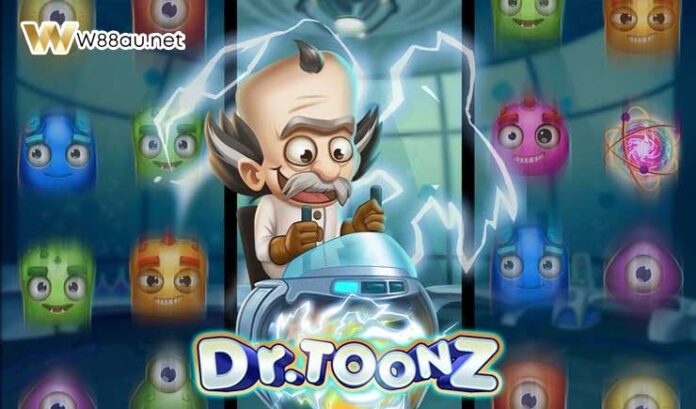 Dr Toonz is a remarkable slot game included in the lobbies of many famous casinos including W88 bookie. Dr Toonz was launched by the famous game provider Play'n GO Slot on September 9, 2021. The Dr Toonz slot game review on how to play and its features will give you confidence when participating in W88 slots.
Dr Toonz Slot Overview
Dr Toonz is a slot game on a 6-column, 4-row game grid set up with an interface that looks like a series of test tubes. In these tubes, different colorful symbols appear when spinning the slot to form winning combinations. This slot game is said to be able to generate 4,096 to 262,144 ways to win, thus giving players huge profits.
The theme of the Dr Toons slot game depicts the process of scientific research in a modern laboratory located on the bottom of the sea, the game interface is decorated with a variety of scientific tools.
The Dr Toonz slot game on W88 can be played on all internet-connected electronic devices, from smartphones to desktop computers. This is a game online slot with a minimum bet of just 20 p/c to a maximum bet of up to £/€100 per spin.
According to the slot publisher, the game's RTP is variable and has a maximum RTP of 96.25%, which is rated as average.
Publisher Play'n GO has a volatility setting that isn't extreme, but an 8 out of 10 rating certainly makes Dr Toonz an unpredictable experience, along with lucrative cash prizes.
Dr Toonz Slot Features at the W88 bookie
Features in Dr Toonz Slot include cascades, charge meters, paylines and free spins that give players even more winning chances.
Cascades feature
Winning combinations are removed from the reels via the cascading feature. New symbols pour into view to fill the gaps, potentially forming new wins. This process repeats if new wins are continuously generated, stopping when no more combinations have hit the target.
Charge meters feature
On every spin of the base game, Quantum starts at 0-2 charges. Each winning cascade will charge the meter by 1, and 3 charges means the meter is full. A fully charged Quantumeter will activate when the cascade ends, rewarding 1 charge feature for every spin or free spin:
Quantum Wilds: add 2 to 6 wilds at random positions on the reels.
Metamorphosis: convert 5-8 regular paying symbols into a different symbol type.
Disintegration: remove all one-eyed alien symbols and add 2 wilds to the reels.
Free spins
Landing 3 or more double-twist scatter symbols will trigger the free spins feature. When there are 3, 4, 5 or 6 spins, the bonus is 10, 15, 20 or 25 free spins which cannot be retriggered. During the free spins, Quantum starts with 1 or 2 charges, improving the chances of triggering Quantum modifiers.
On each spin, look out above the reels, where x2 payway symbols appear randomly. If they do, they will double the number of ways to win on that particular reel. Reaching x2 per reel will result in a max pay of 262,144.
Bigger wins will come in free spins, up to 22,000 x stake. This is because Quantum starts with up to 2 charges per free spin. This means that it only takes 1 or 2 (versus 3 in the base game) to bring the Quantum features into play.
Payouts
Because it is the most attractive slot game on W88 slot, the payouts of this slot are also extremely attractive, as shown in the table below.

Conclusion
The review of the symbols, gameplay and features of Dr Toonz Slot on W88 certainly helped you understand the game well. Dr Toonz slot game offers a free trial version on W88 bookie before players join with real money.
>> Related: Reactoonz 2 Slot