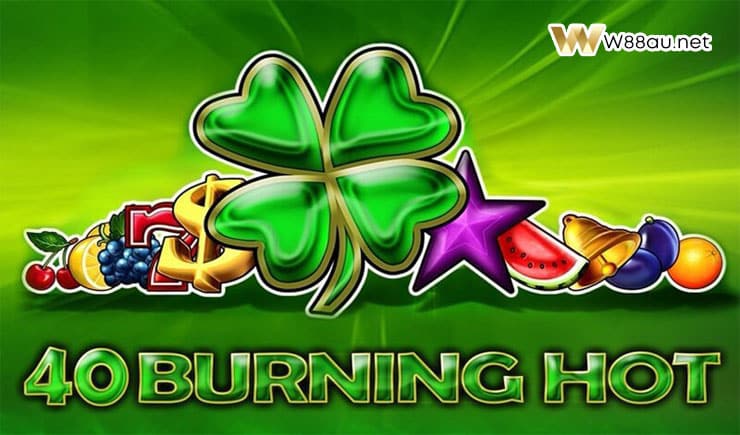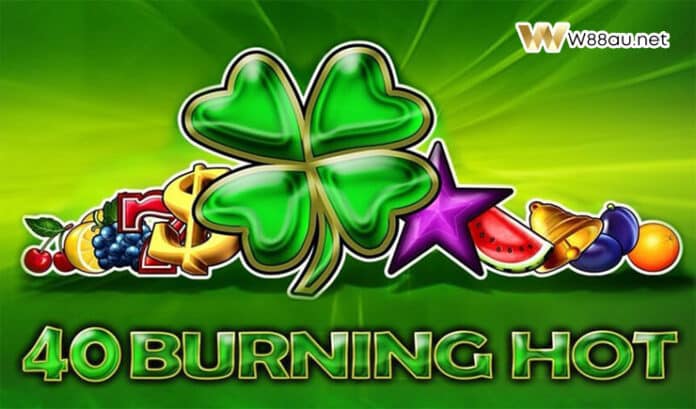 40 Burning Hot Slot is a fruit-themed game recently released by the EGT brand. The theme chosen for this game doesn't seem to impress anyone these days, but the game does have some highlights that we'll discuss in the review below.
Overview of 40 Burning Hot Slot
Slot 40 Burning Hot will have up to 40 betting lines operating on a 5×4 reel mechanism. The game features four high-value progressive jackpots and can offer prizes of up to $80K.
Some of the symbols familiar to slot game players include some fruits like plums, lemons, grapes, watermelons, cherries and oranges. There are also familiar symbols such as three-leaf clover, golden bell and number 7.
How to play 40 Burning Hot Slot at W88 for beginners
To start playing 40 Burning Hot Slot at W88 mobile, you simply click on the number of coins you want to bet and the spins will begin. There is no adjusting the amount of your bet like there is when playing on a modern style slot game, so be careful when you click on the amount as this also doubles as a spin button. The minimum bettable amount is five credits, while the maximum is 100.
You can also set up an unlimited number of spins for yourself using the auto spin feature. This can be found below the reels, and players simply need to click the button to stop and start using the feature.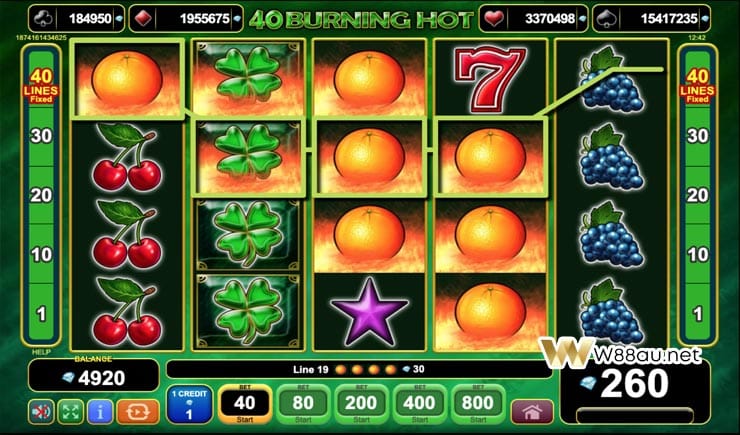 You access all the information about the 40 Burning Hot Slot by clicking on the 'i' button. There are only five paylines in the game, each paying in a left-to-right mechanism.
The fixed reward will be delivered by one of the scatter symbols, with a maximum payout of 80,000 USD. Four progressive jackpots could be worth even more than that enough to make you happy. 40 Burning Hot Slot EGT is an example of a game that is able to appeal to gamers who like simple online slot games.
Symbols and payout rates in 40 Burning Hot Slot
All the paying symbols in the Burning Hot slot are based on old-fashioned fruit-themed slot machines. The highest amount a bettor will receive is 600 times the bet amount when five seven symbols are drawn at the same time. If there are 4 number 7 symbols at the same time, you will be paid 40 times your bet amount and 10 times the bet amount when there are 3 symbols at the same time as well as double the original bet when there are 2 symbols at the same time number 7 on payline.
The grape and watermelon symbols also pay 100x your bet when there are five of them on a payline.
The dollar symbol is the game's scatter, which offers a payout of 500 times the bet when five of them appear at the same time.
As for the bell symbol, it brings 40 times your bet when there are 5 symbols at the same time on a payline.
Finally, there are four different symbols – cherries, lemons, plums and oranges, all of which pay 20x the bet for five, 6x the stake for four and 2x the stake for three of the same symbol appearing together on a payline.
Bonus Features in 40 Burning Hot Slot
Since it is an old-style slot game, there are very few bonus features in Burning Hot. The most appealing feature of this slot game is the mysterious jackpot system. Above the reels, you will see four jackpot prizes that continuously accumulate money.
To stand a chance of winning one of these prizes, you will need to trigger the jackpot bonus round, which can occur at any time at random after a spin. You will then be taken to a game where you must flip three cards from a pile of 12 cards to win the corresponding jackpot.
There is also a gamble feature that is activated every time you win over 175 credits, you need to choose the color or symbol you think will be on the face-down card that the system gives.
Conclusion
The 40 Burning Hot Slot EGT is a sample game that is likely to appeal to gamers who prefer their online slots simply. The game feels like it was inspired by casino slot machines, with classic visuals and sound effects. This slot game is also not one that is concerned with special features and free spins.
Post Related: Avalon II Slot: Review, RTP & How to play