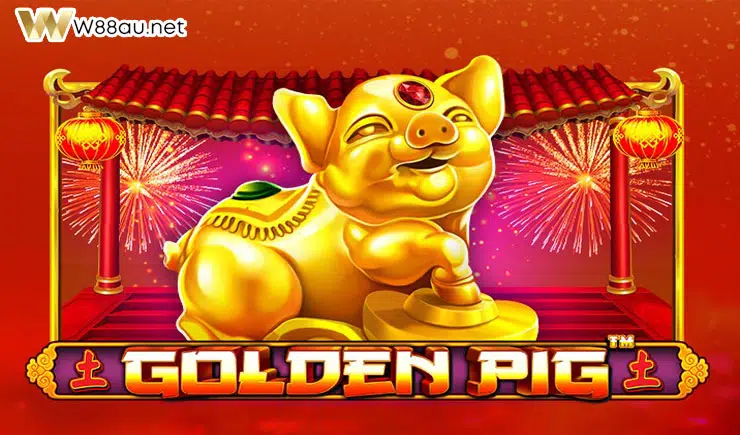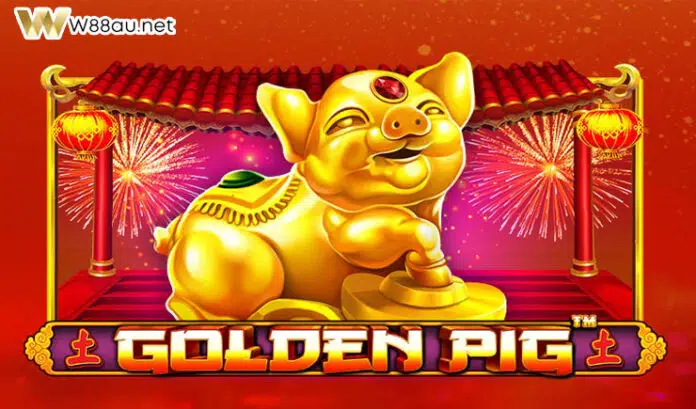 Golden Pig is an extremely popular slot game developed by Pragmatic Play Slot. On the first day, August 10, 2019, according to data from W88 bookie, there were more than 2000 players participating at the same time and quickly climbed to the top 100 most played slot games. So what does this game have that attracts players so much, let's find out how to play and the payout rate.
Overview of Golden Pig Slot on W88
Like many games in the video slots genre, this Golden Pig Slot has a very eye-catching graphical interface. It can be said that players will quickly be attracted from the first spin. The game is designed in oriental style with traditional symbols. The Golden Pig slot has 3 rows and 5 columns with 25 paylines. The game also has 3 Jackpot prizes including Grand (x1000 total bet), Major (x100) and Minor (x30).
Another pretty cool feature of the Golden Pig is the free spins and re-spin bonus. There will be 2 special symbols in the game, Wild and Scatter. The symbols will appear on all the reels and offer great rewards.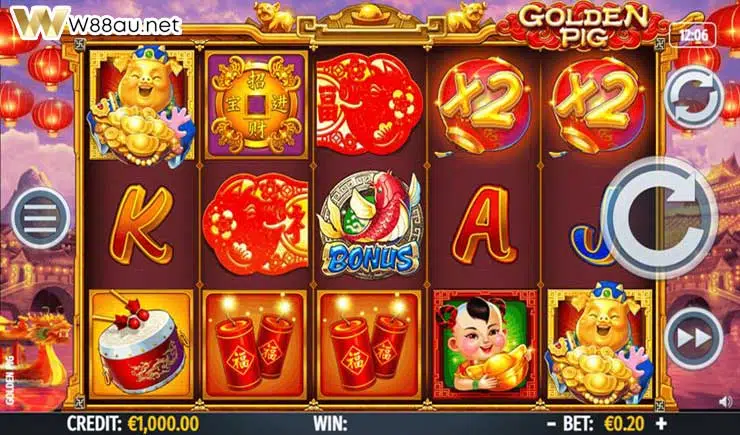 Wild: All symbols can be substituted to form a winning line. The Wild symbol also gives a big bonus when it appears.
Scatter: is a special symbol, which allows you to open free spins and Jackpot. As long as 3 Scatter symbols appear, you will be rewarded with 5 free spins. During the free spins, if a large Golden Pig symbol appears, you will continue to receive an additional bonus.
Players can also participate in playing Golden Pig slot right on their smartphones because the publisher has designed this game to be compatible with all devices. However, for the best experience during play slot, you should play on devices with large screens such as iPads or laptops.
Jackpot Bonus in Golden Pig Slot
An extremely attractive point in the Golden Pig slot is the Jackpot bonus round. When the Scatter appears and enters the free spins, a special symbol will appear. It's a coin symbol, with an unlimited number of appearances offering a chance to win the Jackpot. Now, when you land all 15 special coin symbols, you will win the Jackpot x1000 of your total bet.
According to Pragmatic Play, the RTP for the Golden Pig online slot is 96%, which is considered a relatively good RTP, neither high nor low. This is a medium variance game which means it pays out at a steady rate and players can more easily win their bets as well.
List of symbols & bonuses
In the Golden Pig game slot, the player's money will be converted into coins to buy spins. The lowest bet is 0.25 coins and the highest 1 spin is 125 coins, the bonus is based on the coin bet.
To help you understand the rules of the game as well as the rules of the winning lines, when participating in this game on W88 online bookie, please click the "i" (Information) button to see more about the paytable for each symbol.
This slot game also has an Auto Spin feature that saves you time because just set the bet amount and desired number of spins and then press Auto Spin to let the reels run on its own.
The Golden Pig slot game offers a free trial version right in W88 Slots. If you want to play for real money, please click "PLAY NOW" and convert real money to coins to participate in the spin.
Conclusion
The review on how to play and the payout rates in Golden Pig Slot has been quite complete and has certainly helped you feel more confident when participating in betting on this game. Therefore, register an account on W88 online bookie now because Golden Pig Slot is available.
>> Related: Hugo Carts Slot